---
Congratulations! You're finally applying for U.S. citizenship after many years of patiently working towards it. But before you invite all your friends and family to the naturalization ceremony, you have to take and pass the U.S. citizenship test.
It may sound easy but do you know what the United States bought from France in 1803? Or what Susan B. Anthony did? How about the number of amendments to the U.S. Constitution? These are just some of the questions that might appear on your citizenship test. Fortunately, there are apps and websites that make preparing for the test a breeze.
The U.S. Citizenship test features 100 civics questions, and citizenship applicants are asked up to 10 of these during an interview. Six must be answered correctly to pass, in addition to an English language writing, reading, and speaking test. USCIS reports that, as of September 2019, the naturalization test pass rate was 90%. So, it pays to be prepared!
Read on to find out the best citizenship test study apps and website for immigrants, and the pros and cons of each.
US CITIZENSHIP TEST 2020
If you're looking for an app that has everything to prepare you for the US citizenship test, look no further than the US Citizenship Test 2020 app. Updated annually, this app contains the civics questions, reading and writing vocabulary, and multiple mock tests.
The user interface works well and the app's flashcard functionality will help you review questions on the go, whether on a break at work, doing some home study, or killing time on public transport. This app really corners the US Citizenship test market and with a new edition released yearly, kept up to date.
Cost: US Citizenship Test 2020 is free but for an add-less version you can pay $4.99.
Pros:
– US Citizenship Test 2020 is comprehensive and covers most aspects of the test, which is great because it means you don't have to buy books or go to several websites.
– It has flashcard functionality, which means you can scan through almost all of the 100 civics questions quickly and comprehensively.
– The app has 16 practice tests that track your score each time, enabling you to see your progress. The app also has 14 practice tests by specific topic area, helping you delve into detail on areas in which you feel you need more practice.
– A new edition is released each year, keeping it up-to-date.
Cons:
– Ads. There are quite a lot of them on the free app but you can purchase the app without ads. But if you can work your way through them, they become part of the backdrop.
– There is no audio on the app, which is a gap in the app's offerings as there is a listening test on the US citizenship test.
– Although the app does have the writing and reading vocabulary that is on the citizenship test, it does not test it.
USCIS: CIVICS TEST TOOLS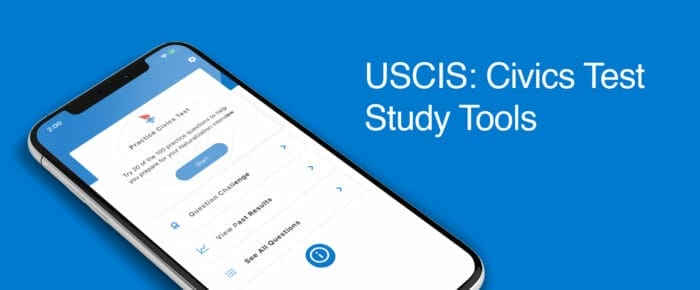 If you're looking for an "official" app to review for the citizenship test, look no further. The U.S. government wants to give you all the tools to successfully pass the citizenship test, and has provided a USCIS-approved Civics Test Tools app.
The USCIS: Civics Test Tools app has a couple of features, including mock tests and all the civics questions that can be asked (remember there are 100 of them) during the real test. The one issue is that funding for the app lapsed in 2017, so some questions may not have been updated.
Finally, USCIS provides some resources for the English language tests, although these are PDFs and not app-based.
Cost: Free!
Pros:
– The app has dual-English and Spanish functionality, making it accessible to more people.
– Clear user interface and no ads. The app does what it says and provides questions and answers to all 100 U.S. citizenship questions.
– The app also has a clearly outlined study guide for the questions and answers, and also provides links to those that may change, such as House Speaker or State Governor.
Cons:
– Some users have reported that outdated questions have appeared in the quizzes, such as the House Speaker not being correct. This is probably due to the app not being routinely updated due to lack of dedicated funding.
– Although most questions will be evergreen, meaning they will not change, you will always need to make sure you are studying the correct answer by double-checking and cross-checking the 100 question list.
– The app does not have a vocabulary component, so you are just going to be getting the civics test part. This is not necessarily an issue but it does mean the app is not as flexible as others on the market.
CITIZENSHIP STUDY GUIDE
Apps are great but what if you're someone who likes studying on a computer, or you want to practice the test with audio?
Citizenship Study Guide provides all of those things, as well as a comprehensive guide to the citizenship test process, a YouTube channel and even a blog that charts all developments in the U.S citizenship testing process. It is one of the most comprehensive apps on the market and is kept up to date.
Cost: free and no ads!
Pros:
– It has audio testing. This is a huge advantage because it means you can practice the listening component. Tests range from beginner level through to advanced, helping you practice the listening and writing part.
– Available in Spanish.
– It's a really comprehensive website, containing links and updates to the test. While it does not have an app, it does have all other resources.
Cons:
– No app is the biggest disadvantage, but many of the other features it does have outweigh this lack of functionality.
– While the content is great, the user interface is not as well designed as some other apps on the market. This means it can be a little confusing at times.
---
Boundless — for people who want the expertise
of an immigration lawyer, not the price tag.