---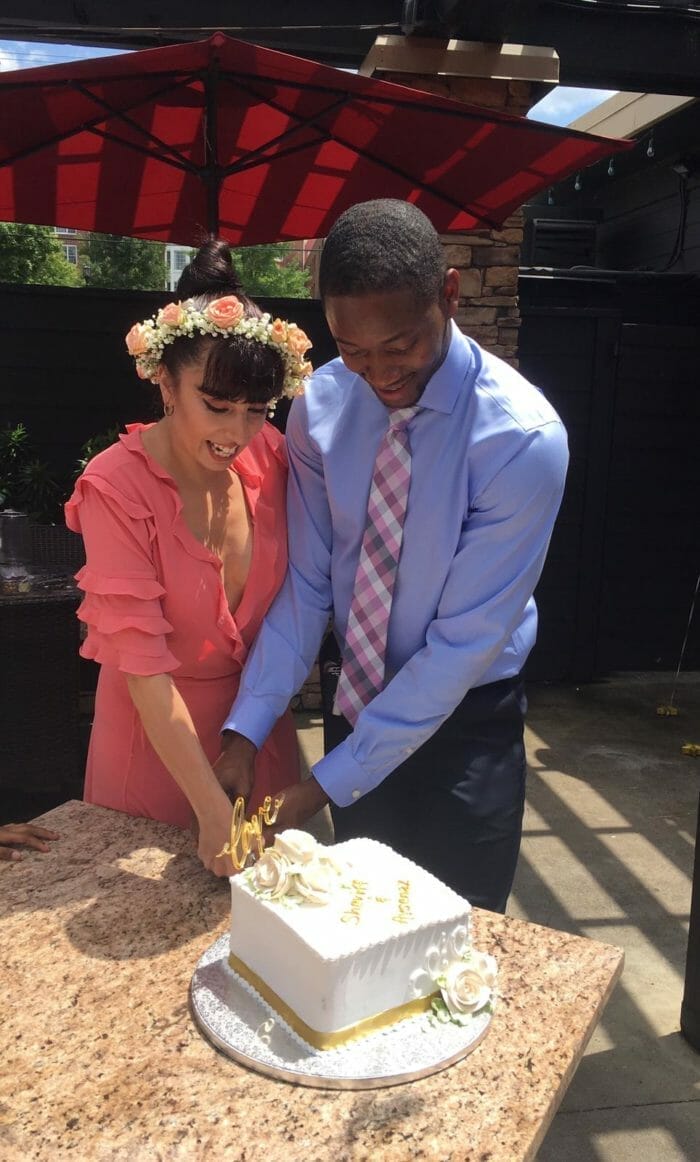 ---
Aysenaz met Sheriff on Tinder while she was working on a J1 visa, and the pair quickly realized they wanted to stay together long-term. After choosing Boundless, Aysenaz managed to get a waiver of her visa's home-residency requirement, allowing her to apply for a spousal visa. We caught up with Aysenaz soon after she received her green card.
---
Congratulations on your green card! It's been a long journey, right?
Thank you! Yes, I went to college in the United States, then stayed on afterwards to work in hotels. I went back and forth between the United States and Turkey for about 7 years, then in 2017 I came to work at a new Marriott hotel in Columbus, Ohio.
How did you meet Sheriff?
We matched on Tinder! It was really nice, we went on seven dates in seven days and quickly decided to be exclusive. It got really good, really fast. Sheriff is actually from Gambia, Africa, but he came when he was 11 years old, and has been a citizen for a while now. I met his mother and his sister, who are living here, and in April we took a trip to Turkey so that Sheriff could meet my family too. The next month, we moved in together.
And you got married soon afterwards?
We're both in our mid-30s, and at our age we knew what we wanted. I knew he was the one for me, and he knew I was the one for him. By June or July, we'd decided to get married. It wasn't a big romantic thing, but that's how it happened. It's real. That's all that matters.
Did you know right away that you wanted to apply for a green card?
Oh yes — otherwise I wasn't going to be able to stay, because my J-1 visa was finishing that August.
---
"Boundless is an amazing service. Everybody needs to know about you guys, for real!" – Aysenaz
---
Were there any complications?
With my J-1 visa, there's a rule where you have to return home for 2 years afterwards. I applied for a waiver of the 2-year rule in May or June — it was supposed to just take 6 weeks, but wound up taking longer. We got married in July, and I talked to Boundless and explained my situation, and you just said, hey, no problem, we can work on your green card application in the meantime. So when I finally got the 2-year rule waiver in November, we already had the package from you guys ready to send off. It was amazing.
Why did you decide to use Boundless?
I couldn't work once my J-1 visa expired, so money was an issue for us, and your prices seemed really, really good! But I wanted to make sure it was legitimate, since it was an online service. I found articles in important magazines talking about your service. Then I talked on the phone with your customer care people, and decided that I was comfortable with you.
Did you consider applying on your own, or hiring a traditional lawyer?

It's hard to find good information – you wind up with so many questions, and there are so many times when you don't know what the forms and government websites are talking about. I went on all these online forums trying to figure it out, but I knew I'd mess something up if I tried to do it on my own. I was like, "I don't want to this by myself." Once I knew Boundless was legitimate, I was really, really happy to have found you.
How was working with the independent attorney you got through Boundless?

Our Boundless Immigration attorney, Shereen, was amazing. I asked every question that ever came to anybody's mind, and then some more. I was very worried that things would be different for me because I'm from Turkey. But she was my support system — it all went very smoothly.
Our customer support person, McKenna, was great too. She and Shereen were always very quick to answer every question, and always returned my calls. We went back and forth a lot with the PDF forms, rereading and correcting things, and whenever I wanted to change something I'd just get in touch and they'd send me a new copy, which was amazing.
---
"I was able to trust you guys, and that's very important to me." – Aysenaz
---
Can you describe your experience when you received your application package?

When I received the file, it looked amazing – so proper and official! The way that it comes with everything clearly marked — "sign here, sign there" — made me feel like everything was going to be okay. When you see that file in your hand, you can see how hard everyone worked on it. I even took pictures and sent them to my mom. Then I mailed it right away!
Now let's talk about the interview. How prepared did you feel with our materials?

The two nights before, we went through all the questions you'd sent us, and we realized it was going to be okay because we could answer anything they asked. We went into the interview feeling prepared, which was perfect.
When we started working with Boundless, you said you'd stay with us until we received the green card, but I didn't realize what that meant. It wasn't just that you helped us prepare the forms — you really did stay with us all the way through the interview, and helped us prepare for it and everything. And we had no hiccups, and no requests for any extra evidence or anything like that. Everything went fine.
On a scale of 1-10, how likely are you to recommend Boundless to others?

I'd say 10, because I've already been recommending you guys. I drive for Uber and Lyft, so I get to talk to everybody, and I tell them about you guys. Boundless is an amazing service. Everybody needs to know about you guys, for real!
What do you tell people when you recommend Boundless? 

This was a difficult time, but you made it very smooth and very easy. Everything was very quick and efficient, and you were very communicative. I didn't have to worry about anything. I was able to trust you guys, and that's very important to me.
---
Boundless — for people who want the expertise
of an immigration lawyer, not the price tag.