---
Persistent immigration issues lingered throughout 2022 for the Biden administration, including legislative hurdles, the lasting effects of Trump-era border policies, and application backlogs.
Here are the top immigration stories from 2022:
Comprehensive Immigration Reform Stalls in the Senate
In 2022, the Biden administration failed to pass its signature legislation, the Build Back Better Act, through the Senate. The bill, which originally contained key immigration provisions such as a pathway to citizenship for undocumented immigrants and large-scale green card recaptures, was watered down several times to appease more moderate lawmakers. Immigration advocates produced a "Plan C" proposal to the Senate parliamentarian, which instead included parole-in-place and work authorization for undocumented people who've been in the U.S. since 2011, but it was struck down. After a series of ongoing negotiations, further talks over the bill halted in early 2022 and as we head into 2023, the Build Back Better Act remains stalled in the Senate.
In addition to the breakdown of the Build Back Better Act at the beginning of the year, 2022 saw repeated stalling of bills and the removal of immigration reform provisions in most legislation introduced in Congress.
Despite this year's persistent legislative challenges, all hope for comprehensive immigration reform is not lost. A bipartisan pair of senators recently introduced a draft immigration deal that would provide a pathway to citizenship for Deferred Action for Childhood Arrivals (DACA) recipients and billions of dollars for increased border security.
DACA Program's Long-term Future Remains in Limbo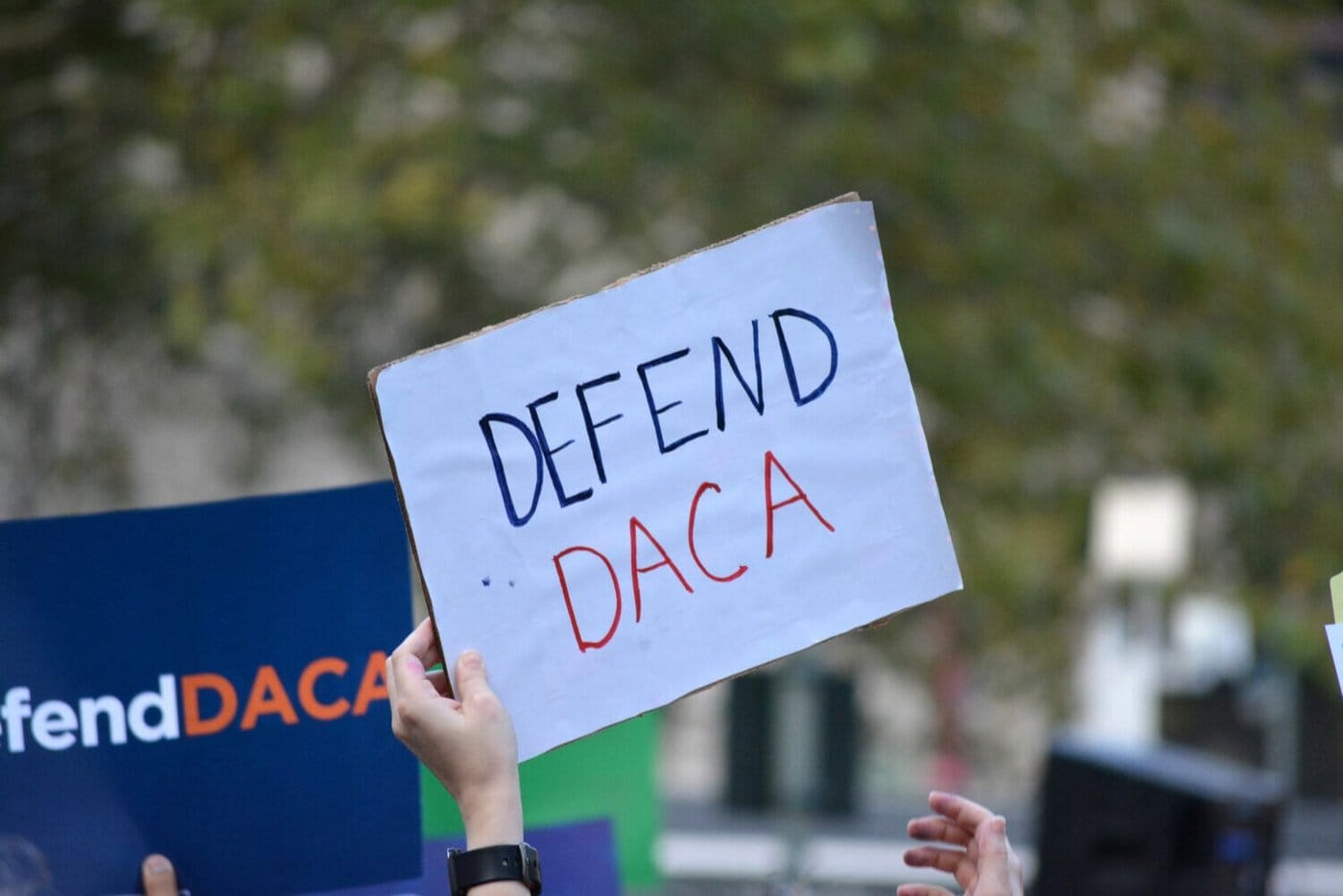 After years of limbo for the DACA program, its long-term future still hangs in the balance. Earlier this year, a federal judge ruled that the program can continue temporarily after a federal appeals court ruled the policy unlawful last year. The judge in question said DACA would be allowed to continue for now but new applicants would still be barred from applying. As of now, no date has been set for future hearings to confirm the program's final status.
The Biden administration and immigration advocates have repeatedly called on Congress to pass legislation protecting DACA from future legal battles. The program protects people who were brought to the U.S. as children without legal status, or who later fell out of legal status, by granting them work authorization, protecting them from deportation, and in some cases allowing them travel permits.
Border Issues Made Headlines
The border was a contentious topic in 2022 as migrant crossings at the U.S.-Mexico border surged to record-breaking levels and the Biden administration struggled to address the lasting effects of Trump-era border policies.
In August, the Biden administration was finally able to end Trump's controversial "Remain in Mexico" policy, which required all asylum-seekers (even non-Mexicans) to stay in Mexico while awaiting their court hearings. Ending the policy was a priority for President Biden since his first day in office, but the administration faced a series of legal battles to do so.
In September, Florida Gov. Ron DeSantis also sparked a nationwide controversy by flying 50 unsuspecting migrants, mostly Venezuelans, from San Antonio to Martha's Vineyard, with false promises of housing, work, and cash assistance upon arrival. DeSantis' "relocation program" was the latest in a new pattern of conservative governors transferring migrants to blue states in protest of the Biden administration's border policies. During 2022, Arizona's governor bused more than 1,800 migrants to Washington, D.C., while Governor Abbott of Texas sent thousands more to D.C., Chicago, and New York City. As the transfers increased, logistical challenges arose for the migrants themselves and the states tasked with welcoming them. In 2022, many asylum seekers struggled to find stable housing and sufficient work opportunities in cities strapped for resources. The transfers were denounced by immigration advocates, with accusations that Republican lawmakers were using migrants as political pawns ahead of midterm elections.
Most recently, in November, a federal judge struck down another controversial Trump-era border policy, Title 42. The rule allowed immigration authorities to turn away more than 1 million migrants at the U.S.-Mexico border under the guise of public health measures. Title 42, widely condemned by immigration advocates, was originally enacted by the Trump administration at the height of the COVID-19 pandemic and continued under the Biden administration as a border enforcement method.
Immigration Took Center Stage During the Midterm Elections
This year brought the midterm elections, with immigration at the forefront of many key campaigns. Although the Republican party succeeded in flipping the House, it fell short of the anticipated "red wave," and many high-profile Republican candidates (who ran on anti-immigrant platforms) floundered on election day. The Republican party's immigration agenda put forth in 2022 was also vague and did not contain specific changes they wanted to see regarding federal immigration policy.
Over the last year, the American public's views on immigration tended to vary along partisan lines, with recent polls showing Republicans and Democrats differ over what the country's top priorities for immigration should be. In a Pew Research Center survey, 91% of Republican voters viewed securing the U.S.-Mexico border as "very important," compared to 59% of Democrats. Republican lawmakers kept border security in the news and at the forefront of campaigns during election season, with moves like the high-profile migrant relocations.
Despite the Republican party's underwhelming performance during the midterms, polling ahead of November 8th did suggest that more Americans preferred the Republican party's stance on immigration than that of the Democrats.
Green Card and Citizenship Issuances Spike Post-Pandemic but Backlogs Still Remain
As COVID-related restrictions eased, more U.S. embassies and consulates reopened throughout the year and visa processing resumed in many countries. The Biden administration also rolled out new measures in 2022 to reduce the massive application backlog, including expanding premium processing, streamlining work permit renewals, and more.
These changes did lead to an uptick in citizenship and green card issuances in 2022. More than 900,000 immigrants became U.S. citizens in 2022, the highest number in a decade. A new report from the Pew Research Center also showed an increase in the number of people receiving green cards and an overall increase in the number of tourists, international students, and other types of temporary migrants in the U.S. over the last year. Boundless' report on the Department of State's National Visa Center (NVC) monthly report also demonstrated that the number of pending green card cases has been on a slight downward trend since July 2021.
Despite evidence that immigration levels seem to be bouncing back, persistent backlogs and long wait times still remain for both green card and citizenship applications. The processing time for citizenship applications reached almost 18 months by August 2022 — more than double the average processing time between 2012 and 2016, according to a new Boundless report.
---
Have legal immigration questions? Get them answered by independent attorneys in our network for just $49.