---
Now that Joe Biden has won the presidency, one thing is sure: by picking Sen. Kamala Harris of California as his vice president, Biden has thrust immigration policy back into the national spotlight.
Harris has an inspirational family story: the daughter of Indian and Jamaican immigrants, she has risen in a single generation to stand on the brink of America's second-highest office. In a sign of the divisions that now mark American society, however, President Donald Trump and others quickly began spreading conspiracy theories falsely claiming that as the child of immigrants, Harris was ineligible for the vice presidency.
The President has since backed away from those claims, but a bigger question remains: what does Harris's selection says about how Biden will handle immigration policy come January?
In any previous cycle, Harris would have been a remarkably progressive running-mate. In the era of Bernie Sanders, Elizabeth Warren, and Julián Castro, however, she looks like a relatively moderate choice. So what does Biden's decision reveal about his plans — and could Harris's advice prompt Biden to rethink any of his existing positions?
Past record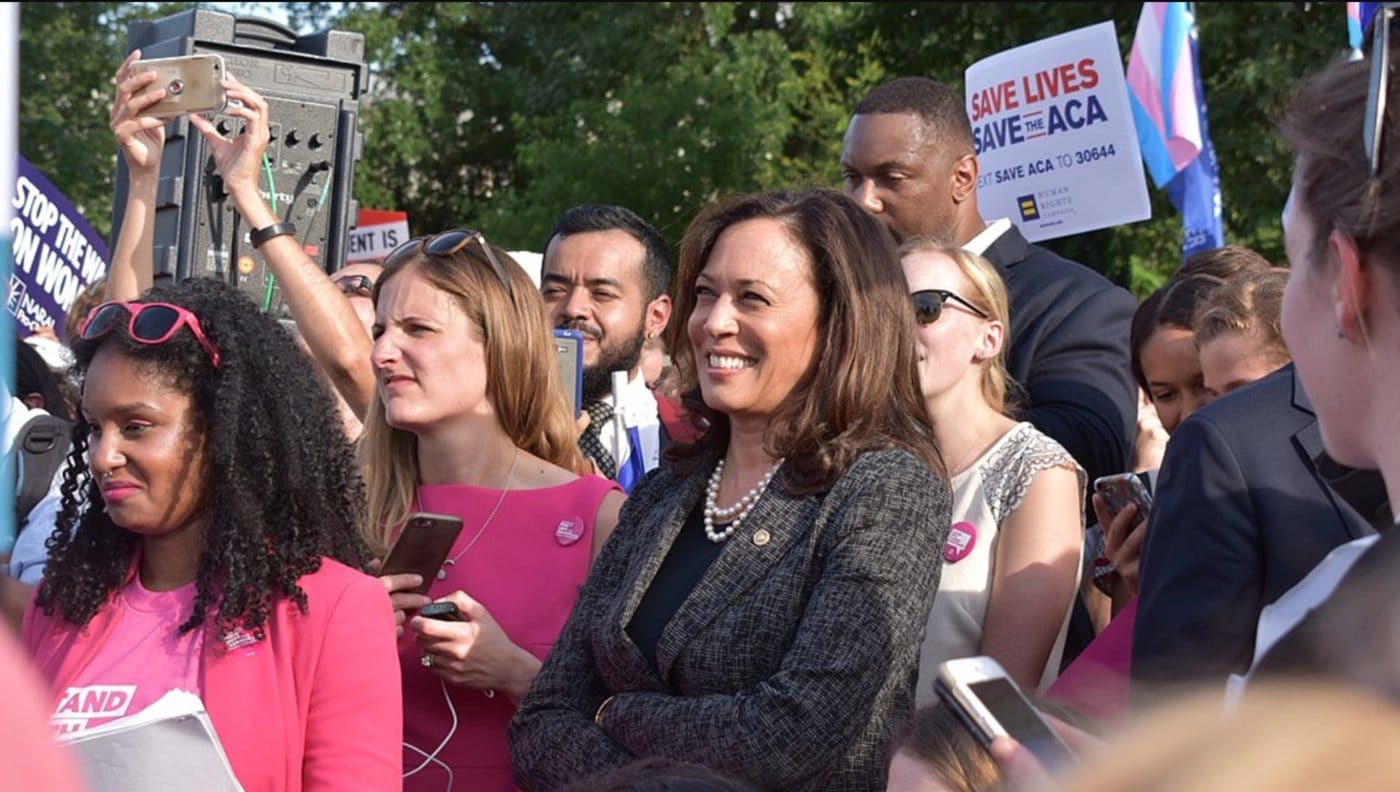 Harris doesn't have a spotless record on immigration: as California's attorney general, she supported a San Francisco municipal policy that saw police hand undocumented youngsters over to ICE for deportation. She subsequently distanced herself from that position, and on other occasions broke with the Obama administration over deportations, advising California's police departments not to cooperate with ICE.
Since becoming a U.S. Senator, Harris has been a reliably progressive vote, siding with fellow-Democrats 99% of the time and emerging as a leading voice against the Trump administration's immigration policies. She blocked Trump's bid to make protections for Dreamers contingent on the construction of a border wall, and has fought to ensure that immigrants receive proper legal representation when detained at points of entry.
On the campaign trail
During the Democratic primaries, Harris went further than Biden to court progressives on immigration issues, arguing that improperly entering the United States shouldn't be a criminal offense. She also made clear that while she supports comprehensive immigration reform, her more immediate priority would be to "roll back Trump's anti-immigrant agenda and build a future that lives up to America's values." Harris has called for the use of presidential authority to protect undocumented immigrants, restore the DACA program, implement Obama-era protections for the parents of Dreamers, and eliminate the age cap for DACA applicants.
Harris's immigration platform included a new "roadmap to citizenship" for 2.1 million Dreamers, removing various technical bars that can prevent DACA recipients from transitioning to green cards. She also promised to issue new rules defining separation from a close family member as "extreme hardship" for immigration purposes — a move that would make it easier for undocumented immigrants to transition to legal status without first leaving the United States for several years.
The Biden-Harris team
While Harris has chiefly focused on protecting undocumented immigrants, Biden's immigration platform included more detailed plans to improve the legal immigration system. Biden has pledged to remove roadblocks to naturalization for green card holders, launch a coordinated federal effort to help new Americans integrate into the economy, and streamline both high-skilled and seasonal employment-based visa programs. He's also called for foreign PhD graduates to receive a green card along with their diploma, and for STEM graduates to be exempted from caps on employment-based visas.
As an Indian-American, Harris might be able to nudge Biden to pay extra attention to visa waiting lists that currently leave some Indian green card applicants facing century-long waits for green cards. In 2019, Harris led an ultimately fruitless push for reforms to the country cap system, hoping to free up more green cards for countries such as India and China; it's possible that as VP she would be able to resurrect those plans.
Biden's selection of Harris confirms that he's serious about immigration reform, both for legal and undocumented immigrants, but suggests that he's unlikely to move quite as far to the left as some progressive Democrats might have hoped. It also suggests, though, that he's willing to use executive authority to swiftly undo many of the Trump administration's most egregious anti-immigrant policies, even while working with Congress to enact more sweeping and durable reforms. These executive actions could include:
Reversing the public charge rule
Reinstating DACA
Rescinding all the Muslim bans
Protecting Temporary Protected Status (TPS) and Deferred Enforced Departure (DED) holders
Paroling deported veterans back into the United States to reunite with their families
Streamlining and improving the naturalization process (for instance, faster adjudications and no unreasonable fees)
A winning strategy?
The Biden-Harris administration's success would depend on two key factors: Congress and the courts. If Biden secures a workable Democratic majority in the Senate, he might be able to convince Democrats to scrap the filibuster, overcome Republican resistance, and push through his legislative priorities. With the 2022 midterms looking favorable for Democrats, Biden could potentially spend his full four-year term passing meaningful immigration reforms.
Even with congressional support, however, fixing the immigration system will prove challenging. Hollowed-out or corrupted government agencies — including ICE, the CBP, and USCIS — will take time to overhaul. More pressingly, any new laws or executive orders will face swift legal challenge, with Trump appointees on both circuit courts and in the Supreme Court likely to serve as a significant brake on Biden's immigration reforms.
In Harris, Biden has selected an energetic and ambitious VP with a powerful personal story, deep experience both in law enforcement and on Capitol Hill, and a clear desire to demolish Trump's fraught legacy on immigration issues. That's a good thing: given the challenges he'll face as president, Biden will need every bit of Harris's energy, intelligence, and expertise to force through the changes that are needed.
---
Have legal immigration questions? Get them answered by independent attorneys in our network for just $49.