---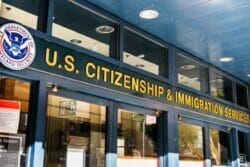 IMPORTANT UPDATE: U.S. Citizenship and Immigration Services (USCIS) has extended temporary office closures until at least June 4. To schedule an emergency appointment, contact the USCIS Contact Center.
---
USCIS announced Tuesday it would temporarily shut down its offices due to the coronavirus outbreak.
The agency said in a statement it would be closing all of its field offices and suspending naturalization ceremonies starting March 18. The closure will last for at least 2 weeks.
"USCIS staff will continue to perform duties that do not involve contact with the public," the agency said, adding that emergency help would be provided only for "limited situations."
Once offices reopen, USCIS will automatically reschedule biometrics appointments. Applicants with other appointments will need to reschedule through the USCIS Contact Center. Make sure to check the USCIS field offices page to see if your field office has reopened before contacting the agency with questions.
Learn more here on how the coronavirus pandemic is impacting immigration.
---
Boundless — for people who want the expertise
of an immigration lawyer, not the price tag.