Black Immigrants in the United States: Status, Challenges, and Impacts
---
A Boundless report uses public data to examine the state of Black immigrants in the U.S.
Black Immigrants Are an Important Part of the U.S. Immigrant Experience
The Black immigrant experience in the United States is shaped not only by where people come from and what they experience when they arrive, but also the deep-rooted histories of Black people and communities in the United States. The transatlantic slave trade brought the first enslaved Black people to the United States in 1619 and continued for nearly two hundred years, resulting in the population of enslaved people in the U.S. reaching nearly 4 million people in 1860. The lived experiences of Black Americans are still touched by the history of the slave trade to this day.
Voluntary Black migration began to increase as U.S. immigration laws became less restrictive towards non-Western European people in the middle of the 20th century, and the quota system was restructured to favor family reunification. In the past two decades, however, the Black immigrant population has grown at a rapid pace, creating a diverse population of Black immigrants whose stories are the American story: people who raise families, go to work, pursue higher education, own homes, and contribute to their communities and the economy.
At the same time, Black immigrants face unique challenges in comparison to other immigrants, born from factors like anti-Black discrimination and racial prejudice, which can be layered on top of their experience as immigrants. By understanding these challenges, we can begin to examine the realities Black immigrants face, while also highlighting the ways Black immigrants contribute to the changing fabric of American society.
For the purposes of this report, a Black immigrant is defined as any person who was born outside the United States to non-U.S. citizen parents and who identifies as Black or African American alone or in combination with another race or races in the American Community Survey (ACS). Public data sources include data collected from 2013 through 2022.
---
Black Immigrants' Countries of Origin and Roots in the U.S.
Black immigrants come from all over the world, though the majority emigrated from Latin America and the Caribbean: according to the 2019 ACS, 54% of Black immigrants came to the U.S. from Latin America, and around 42% came from Africa. The remainder came in smaller numbers from Europe, Asia, and North America, in that order.
Black immigrants also tend to have lived in the United States for extended periods, according to a report by the Black Alliance for Just Immigration (BAJI). For example, people from Jamaica, Haiti, and the Dominican Republic began moving to the United States in greater numbers during the 1960s in response to national and geopolitical changes such as Jamaica's independence from the United Kingdom in 1962, the brutal Duvalier dictatorship in Haiti, or the civil war and subsequent invasion of the Dominican Republic. One out of three Black immigrants are from Jamaica or Haiti, and around 42% of Caribbean immigrants arrived in the U.S. before 1990.
On the other hand, though the Caribbean has historically been the largest source of Black immigrants to the U.S., migration from Africa has increased by 246% over the past twenty years. Of the roughly 2 million Black African immigrants now estimated to be in the U.S., 69% of Black African immigrants arrived in the U.S. prior to 2009, with 31% arriving in the past decade.
Additionally, many Black immigrants come from English-speaking countries, such as former British colonies like Jamaica and Nigeria. Coupled with the levels of post-secondary education (discussed below) attained by many Black immigrants, this means that Black immigrants report higher rates of English proficiency in comparison to other immigrant groups: 60% of Hispanic immigrants and 81% of Asian immigrants speak English well or better than other immigrants. In contrast, 90% of Black immigrants speak English well or better than other immigrant groups.
Finally, Black immigrants become U.S. citizens at around the same rate as other immigrants in the U.S., at about 60 percent. According to the ACS, Black immigrant women naturalize at a higher rate than men, at 54% to 46% respectively. Black immigrants from South America have the highest citizenship rate among Black immigrants from other regions of the world.
Where Black Immigrants Call Home
Black immigrants tend to live in highly concentrated regions of the country. With 913,550 Black immigrants in 2019, New York is the top state of residence — but trends show that the Black immigrant population in other states is growing significantly.
Big population gains in unexpected places
From 2010 to 2019, the Black immigrant populations in states like Texas, Florida, and New York all saw increases in the 2020 Census. According to the Pew Research Center, the Texas metropolitan areas of Dallas-Fort Worth and Houston-Sugar Land saw the Black immigrant population grow by more than 200%, while in Florida during the same time period the population grew by 81%, with over 350,000 new Black immigrants counted in the 2020 Census. In comparison, New York state only saw a 13% growth rate, though that figure still represents an increase of nearly 110,000 people.
While New York, Florida and Texas have been the three top states in terms of the number of individual Black immigrants for several years, some other less obvious destinations for Black immigrants saw marked population growth.
For example, the Black immigrant populations in the Dakotas and Minnesota are the largest in the country when measured as a percentage of the state's total immigrant population. North Dakota, in particular, became more racially diverse than ever between the 2010 and 2020 censuses, with the state's population growing by more than 106,000 people, with the city of Fargo alone seeing a growth from 2.7% to 8.8% in its Black population, many of them immigrants and refugees.
On the other hand, Hawaii, California, and New Mexico have the smallest populations of Black immigrants by percentage.
Black Immigrants' Socioeconomic Status
From employment to income, Black immigrants are significant contributors to the U.S. economy.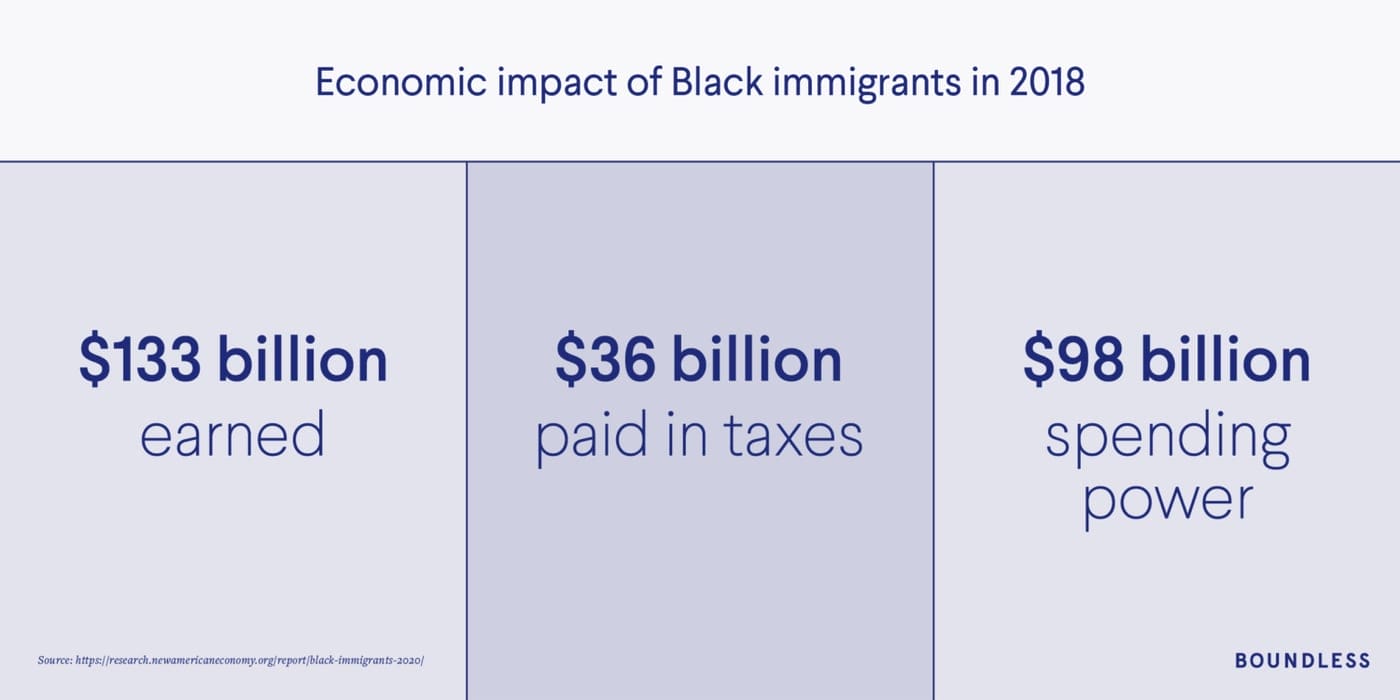 Most Black immigrants are adults, with a median age of 42 years old. This is similar to the median age for all U.S. immigrants: 43 years old. Black immigrants from Africa skew slightly younger at 37 years old.
In comparison to other immigrants, Black immigrants are less likely to own a home. However, there isn't much of a difference in homeownership rates between U.S.-born and foreign-born Blacks. Approximately 42% of U.S.-born Blacks are homeowners, in comparison to 41% of Black immigrants (based on heads of household).
Meanwhile, 61% of Black immigrants are married – similar to the marital status of all U.S. immigrants (60%) but much larger compared to U.S.-born Blacks and African Americans (29%).
Income
Black immigrants have lower household incomes than that of all U.S. immigrants. The median annual household income for Black immigrants in 2019 was $57,700, in comparison to $63,000 for all U.S. immigrants, according to 2019 Census data. Additionally, Black immigrants are less likely to earn $100,000 or above compared to other immigrants.
The poverty rate among Black immigrants is higher than it is among all Americans, but similar to that for all U.S. immigrants. Pew reports that 19% of Black immigrants live below the poverty line, compared to 11% of overall Americans.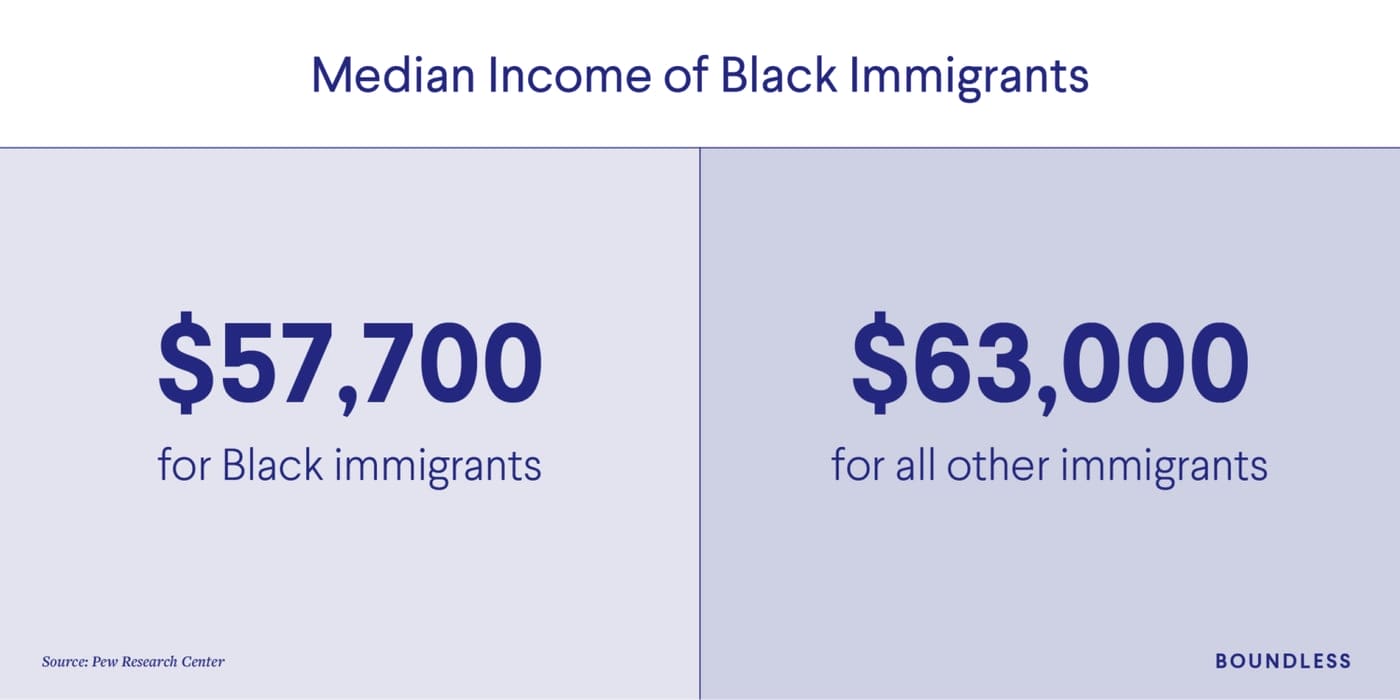 Education
Black immigrants attain their education roughly on par with the general U.S. population, though educational attainment of Black immigrants is higher in comparison to the total immigrant population.
86% of all Black immigrants have a high school degree or some college, in comparison to 89% of the U.S.-born population.
36% of Black immigrants have obtained a Bachelor's degree or higher, which is three points higher than the U.S. population as a whole.
46% of Black African immigrants have a bachelor's degree or higher, in contrast to 33% of the general immigrant population and the total U.S. population.
Notably, African immigrants are more likely to hold an advanced degree than the U.S.-born population: In 2018, nearly 16% of African immigrants reported having a master's, professional, or doctorate degree, in comparison to 12% of the U.S.-born population.
Looking at the total U.S. population (native and foreign born combined), women complete high school or beyond at a slightly higher rate than men, at 89.2% for high school graduate and higher compared to 88% of men, and 33.9% percent of women have a bachelor's degree or higher, as opposed to 32.3% of men. These trends are generally reversed for Black immigrant women; however, Black immigrant women from Jamaica, Trinidad, and Tobago each had higher educational attainment levels than their male counterparts, as well as women from the Dominican Republic, who attained bachelor's degrees or higher at a greater rate than Dominican men.
The Diversity Immigrant Visa Program (also known as the green card lottery) is also a contributing factor to the rates of Black immigrants with higher education. Applicants must have at least a high school degree or two years of qualifying work experience. Of the 55,000 total visas offered through the program, 5,000 go to beneficiaries of the Nicaraguan Adjustment and Central American Relief Act (NACARA), according to the BAJI. From 2005-2014, Africa received nearly 46% of all diversity visas, as opposed to 0.02% of diversity visas issued to Caribbean immigrants.
Employment Status
In the labor force, Black immigrants have a slightly lower employment rate than all other U.S. immigrants: 93% vs. 95%, respectively.
Within this group, a person's employment may be influenced by the circumstances in their home country. In a study of the integration outcomes of African immigrants in the United States, researchers found that labor force participation rates are higher than that of the foreign-born population and general U.S. population. "Participation rate" is defined as the number of employed and unemployed-but-looking individuals aged 16 years and older.
The study found that African immigrants reported a 73% percentage rate, which is 10 points greater than that of native-born Americans. One potential contributing factor: the study's author, Abel Chikanda, said that refugees have six months to become self-sufficient after arriving in the United States.
Overall, a significant percentage of Black immigrants work in healthcare: nearly 28%. Of that group, approximately 10% work as nursing assistants, 6% as personal care aides, and 4% as registered nurses, according to the NAE.
In addition, approximately 700,00 foreign-born veterans are estimated to live in the U.S. today, according to Fwd.us. The overall rate of immigrants serving in the U.S. military is lower than the native-born U.S. population, largely due to the requirements for service. Non-citizens must be permanent residents, have a high school diploma, and be fluent in English to join the U.S. armed services. The Black immigrant population enlists at a marginally higher rate than the over immigrant population, with Black immigrants from the Caribbean enlisting in the highest numbers, at around 72,300 civilian veterans.
How Have Black Immigration Patterns Changed Over Time?
The history of Black immigrants in the United States begins with the transatlantic slave trade, which brought 388,000 enslaved Africans to North America beginning in the 16th century. Although Black immigrants have long been a part of the American landscape, their share of the population has rapidly increased within the past two decades.
According to ACS data, there were 816,000 Black immigrants in the United States in 1980. By 2000, that number had risen to 2.4 million. As of 2019, Black immigrants now account for nearly 10% of the nation's Black population at 4.6 million people. Within this group, the number of African immigrants has seen a significant increase: There were approximately 574,000 African immigrants in the United States in 2000, and by 2019, that number had more than tripled to over 1.9 million.
There are roughly 4.6 million Black immigrants in the U.S. today, and according to Pew Research Center that number could more than double to 9.5 million in 2060.
Discrimination against Black Immigrants
It's an unfortunate truth that Black immigrants are also subject to the anti-Black discrimination and racial prejudice that face Black American citizens. Black immigrants face distinct challenges by virtue of their immigration status.
According to the BAJI, Black immigrants are more likely to be detained for criminal convictions than immigrant convictions in comparison to the overall immigrant population. They are also more likely to be returned to their home country and prevented from returning than immigrants of other races or ethnicities. The Center for Migration Studies found that 76% of Black immigrants are deported on criminal grounds, as opposed to 45% of all immigrants.
Discrimination includes the classroom. In a 2015 report about the perceptions of Black immigrant collegians, the authors found that English language learners in the study were considered academically inferior and felt their contributions were dismissed in the classroom—even if they were more academically prepared than their American classmates.
In the workplace, African and Caribbean immigrants experience more occupational segregation than whites, according to a 2019 study of Black immigrants' occupational segregation in the United States. "Occupational segregation" refers to systemic concentrations of workers in particular jobs. The researchers note that both African and Caribbean immigrants feel they have no long-term future in their roles "because employers have negative perceptions of their skills." This sentiment is reflected in the levels of professional discrimination faced by Black immigrants and Black citizens alike: during the hiring process, Black applicants are less preferred than white applicants, and Blacks are less likely to be promoted into managerial or supervisory positions than whites.
Taken as a whole, Black immigrants are a small, but rapidly growing portion of the immigrant population with unique attributes, backgrounds, and challenges. They are more likely to speak English than U.S. immigrants overall, they have higher labor force participation rates than U.S.-born whites, and they are among the most highly-educated immigrant groups. Black immigrants have impacted the landscape of this country for centuries; moving forward, they play a crucial role in defining what it means to be not just an immigrant in the United States, but an American.
---
About the Data
The following public sources were used:
George Mason University, Institute for Immigration Research (IIR),Institute for Immigration Research (IIR), 2022; IPUMS USA: Version 11.0 [American Community Survey (ACS) 2015-2019 5 year averages]. Minneapolis, MN: IPUMS, 2021.
"Key findings about Black immigrants in the U.S.," Pew Research Center, 2022
"The State of Black Immigrants," The Black Alliance for Just Immigration, NYU School of Law Immigrant Rights Clinic, 2022
"Power of the Purse: The Contributions of Black Immigrants in the United States," New American Economy Research Fund, 2020
"Being Black and Immigrant in America," Center for Migration Studies, 2020
"Foreign-born Workers: Labor Force Characteristics – 2020," Bureau of Labor Statistics, U.S. Department of Labor
"What Does It Mean to Be a Black Immigrant in the United States?" The Immigrant Learning Center, 2020
"Assessing the integration outcomes of African immigrants in the United States," Abel Chikanda & Julie Susanne Morris, African Geographical Review, 40:1, 1-18, DOI: 10.1080/19376812.2020.1744455, 2021
"Caribbean Immigrants in the United States," Migration Policy Institute, 2019