---
It's no secret that immigrant entrepreneurs have always made exceptional contributions to America's economy, in communities all across the country. Immigrants have helped start as many as one of every four small businesses and high-tech startups across America, and the majority of those in Silicon Valley. More than 40 percent of Fortune 500 companies were founded by immigrants or the children of immigrants, and the majority of today's unicorns (private companies valued at over $1 billion) have an immigrant co-founder.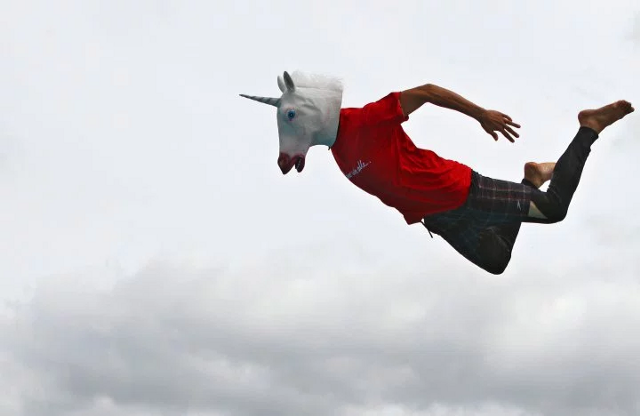 Yet none of these immigrant entrepreneurs came to America on a visa designed for startup founders—because Congress never created one. Instead, entrepreneurial people have come here through pathways designed for students (Elon Musk, Tesla and SpaceX), family members (Pierre Omidyar, eBay), workers (Adi Tatarko, Houzz), or refugees (Sergei Brin, Google).
But in an era when America can no longer be complacent about its longtime status as the best place on Earth to start and scale a new company—an era when Canada is advertising for immigrant talent on U.S. highway billboards, China is heavily subsidizing startups, and French President Manuel Macron is making a personal appeal for the world's entrepreneurs to "find in France a second home"—perhaps it would be a good idea for America to make immigrant entrepreneurship a little bit easier.
That's the goal of the International Entrepreneur Rule, a regulation issued in the last days of the Obama Administration, which the Trump Administration recently suspended just before the first eligible entrepreneurs could start submitting applications.
Today, a new lawsuit filed by the National Venture Capital Association and a number of would-be immigrant entrepreneurs (NVCA v. Duke) is seeking to compel the the Department of Homeland Security to end the delay and start accepting applications immediately. (Full disclosure: In my previous job in the Obama White House, I played a role in implementing the International Entrepreneur Rule. Neither I nor Boundless are party to today's lawsuit, however.)
How did we arrive here, and what's likely to happen next? Let's begin at the beginning…
---
What is the International Entrepreneur Rule?
The International Entrepreneur Rule is a federal regulation, issued by the Department of Homeland Security (DHS), that creates a clear pathway for high-potential entrepreneurs to stay in the United States to start and grow new companies.
To be eligible, an entrepreneur would have to provide a "significant public benefit" to the United States. What that means in practice is:
The entrepreneur must have a significant ownership stake in the startup (initially at least 10 percent), and have an active and central role in its operations.
The startup must have been formed in the United States within the past 5 years.
The startup must have "substantial and demonstrated potential for rapid business growth and job creation," as evidenced by either (a) significant capital investment (at least $250,000) from qualified U.S. investors with established track records, (b) significant awards or grants (at least $100,000) from federal, state or local government agencies; or (c) showing other "reliable and compelling evidence" (such as admission into a highly competitive startup accelerator).
Under the International Entrepreneur Rule, up to 3 eligible entrepreneurs per startup could be allowed an initial stay of up to 2.5 years to oversee and grow their company in the United States. An extension for up to 2.5 more years could be granted if the startup continues to provide a "significant public benefit," as evidenced by substantial increases in capital investment, revenue, or job creation.
More fun facts:
A recent impact analysis predicted that the International Entrepreneur Rule would create at least 135,000–300,000 jobs over the next 10 years, based on DHS' initial estimate of 2,940 eligible entrepreneurs each year.
The International Entrepreneur Rule is not a "startup visa," since only Congress can create a whole new visa category. Technically, the rule is based on the Secretary of Homeland Security's discretionary authority to grant "parole" in special circumstances. (In the immigration context, "parole" just means temporary permission to be in the United States—it has nothing to do with criminal law, ankle bracelets, and the like.)
The International Entrepreneur Rule has recently received support from investment and economic development leaders in most states, 60 technology industry groups, and Senators from both parties.
---
Timeline of the International Entrepreneur Rule
2009-2010
Y Combinator founder Paul Graham publishes a short essay proposing a "Founder Visa"; entrepreneurs and investors including Brad Feld, Steve Case, and many grassroots advocates build a "startup visa" movement; the Kauffman Foundation and others publish research underscoring the economic benefits of the idea.
2010-2013
Numerous bipartisan startup visa bills are introduced in both chambers of Congress, but like most immigration proposals of any kind, they don't pass as standalones.
June 2013
By an overwhelming bipartisan margin (68–32), the Senate passes a comprehensive immigration reform bill, which includes two different startup visas (the "X-1" as a temporary initial visa, and the "EB-6" as a green card designed just for entrepreneurs).
November 2014
After the Republican-controlled House of Representatives fails to bring immigration reform up for a vote, President Obama announces a series of executive actions to fix parts of the immigration system, including a new immigration pathway for entrepreneurs.
August 2016
DHS publishes a draft version of the International Entrepreneur Rule—a "proposed rule" that generates over 700 comments from the public recommending various changes.
January 17, 2017
Three days before the end of the Obama Administration, DHS publishes the final version of the International Entrepreneur Rule, incorporating many of the public's suggestions. The "effective date" is set for July 17, 2017, giving DHS enough time to set up the intake process, at which point the first applications would be accepted.
January 25, 2017
The Trump Administration issues an executive order concerned primarily with border security and immigration enforcement, which includes one paragraph directing DHS to conduct a general review of its use of "parole" authority.
July 11, 2017
Less than a week before the International Entrepreneur Rule is scheduled to take effect, DHS freezes the effective date until March 14, 2018, while also indicating its intent to rescind the rule entirely in the meantime.
August 2017
DHS receives nearly 400 new public comments on the International Entrepreneur Rule, the large majority of which are highly supportive.
September 19, 2017
The National Venture Capital Association and several startup founders, represented by the American Immigration Council and the law firm Mayer Brown, file a lawsuit against DHS arguing that its delay of the International Entrepreneur Rule caused measurable harm to entrepreneurs and investors, and violated the Administrative Procedure Act.
In short, Congress requires federal agencies to seek public comment before issuing a final regulation, unless there's "good cause" to skip that step. DHS claimed that it had good cause to skip public comments before finalizing its delay of the International Entrepreneur Rule, because going through that whole process would have expended "limited agency resources." But in the words of the plaintiffs today:
The assertion that DHS will need to expend additional agency resources if it does not delay the effective date of the [International Entrepreneur] Rule is implausible. DHS cannot seriously contend that it intended to develop a system for adjudicating applications, yet took no steps to do so, until the final week before the Rule was to take effect. Either DHS always intended to delay the Rule, and could have easily offered an opportunity for notice and comment to the public, or DHS has already expended significant resources in developing such a system, and any additional resources DHS would expend are minimal.
---
What happens next?
Glossing over some of the finer points of regulatory litigation, there appear to be three main possibilities over the next several months:
Lawsuit fails, International Entrepreneur Rule dies: If the federal court sides with DHS—or simply takes its time in making a decision—then DHS could proceed with its original stated game plan: Rescinding the International Entrepreneur Rule before it ever takes effect. This would require going through the typical three-phase rulemaking process: (a) publishing a "proposed rule" with a detailed legal and economic justification to rescind, (2) soliciting public comments, and then (3) publishing a "final rule" that responds to these public comments and deletes the International Entrepreneur Rule from the Code of Federal Regulations. Getting all of this done by DHS' self-imposed deadline of March 14, 2018 would be Ludicrous Speed by federal agency standards, but that deadline could conceivably be extended again.
Lawsuit succeeds, International Entrepreneur Rule lives: If the federal court sides with the plaintiffs, it could order DHS to implement the International Entrepreneur Rule more or less immediately. Then DHS could either comply or appeal the decision. If the agency complies, and starts accepting applications from entrepreneurs, it could still ultimately rescind the International Entrepreneur Rule through the three-phase process outlined above.
International Entrepreneur Rule lives, lawsuit is moot: If DHS announced a change of heart, and told the federal court that it planned to implement the International Entrepreneur Rule of its own free will, then the lawsuit would be moot.
It's impossible to assign probabilities to these various outcomes, but we should know within a few months which way the Federal District Court of DC is leaning.
---
More recent updates:
In December 2017, a federal judge ruled in favor of the plaintiffs in NVCA v. Duke, and ordered DHS to implement the International Entrepreneur Rule.
U.S. Citizenship and Immigration Services (USCIS) then began accepting applications, with the giant caveat that the agency still intended to eliminate the program through the standard rulemaking process.
On May 29, 2018, DHS formally published a proposed regulation to eliminate the International Entrepreneur Rule, with a public comment period ending on June 28.
---
As a White House staffer from 2010–2017, Doug Rand worked on efforts by Congress and the executive branch to reform the U.S. immigration system. Today he is President and Co-Founder of Boundless Immigration, a technology company dedicated to empowering families to navigate the immigration system more confidently, rapidly, and affordably.
---
Boundless — for people who want the expertise
of an immigration lawyer, not the price tag.