Boundless helped over 300 families from Canada last year. We've helped over 70,000 families in the last decade.

Here's how to apply for specific visas, contact the U.S. embassy in Canada, and more:
K-1 Fiancé Visa
General process
Looking to apply for a K-1 fiancé visa? The general K-1 visa process looks the same for Canadian citizens as it does for applicants from other countries. More information on K-1 wait times, costs, and requirements can be found in Boundless' K-1 guide. Here's a more detailed breakdown of K-1 costs and processing times:
Timeline for canadian applicants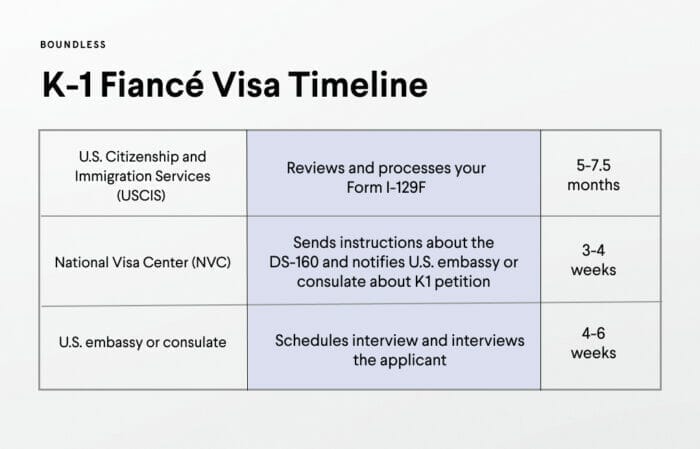 Cost for canadian applicants
Marriage-Based Green Cards
General Process
If you and your partner are already married, or considering marriage soon, you may be thinking about applying for a marriage-based green card. Similar to the K-1 visa, the marriage-based green card process is standard for Canadian citizens. Wait times, costs, and requirements differ depending on where the Canadian spouse lives and whether the sponsoring spouse is a U.S. citizen or permanent resident. More information can be found in Boundless' marriage-based green card guide. Here's a more detailed breakdown of the costs and processing times for your specific situation:
Timeline for Canadian applicants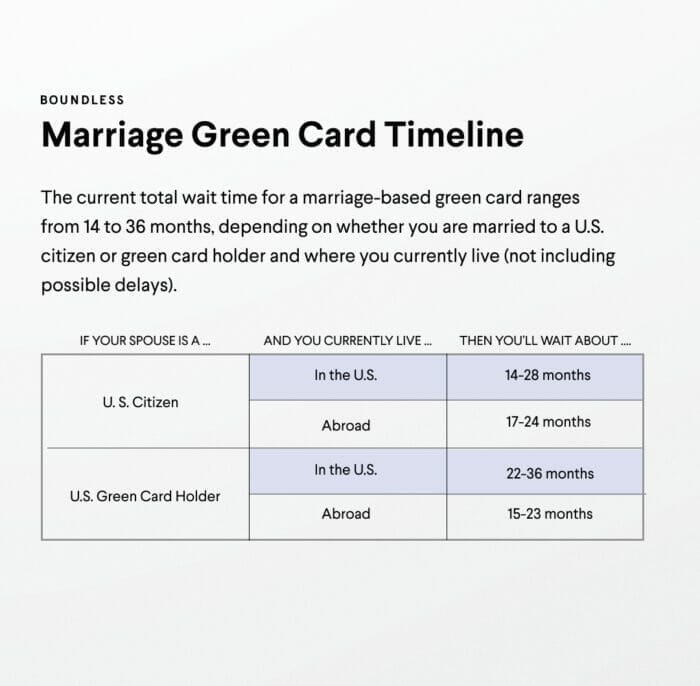 Cost for Canadian applicants
Which Visa is Right for Me?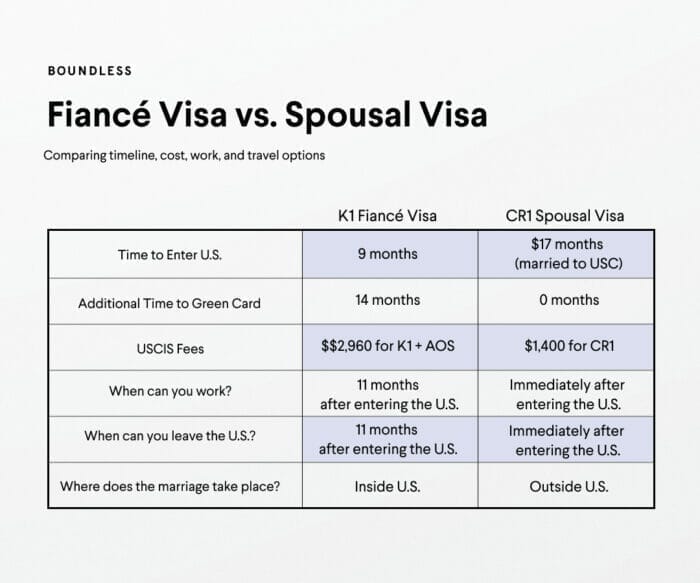 Immigrating with Children
K-2 Visas
Looking to immigrate from Canada with your children? If you're going the K-1 visa route, the K-2 visa may be a good option for your family. The K-2 visa can be used by the children of a K-1 fiancé visa holder to enter the United States and immigrate with their parent at the same time.
Boundless can help you include any unmarried children under the age of 21 on your K-1 fiancé visa application for no extra charge. Learn more about what we do to help.
IR-2 Child Visas
If you're a U.S. citizen and your child is living in Canada, it may be possible to sponsor them for a green card through the IR-2 child visa process. More information on the process and requirements can be found in Boundless' IR-2 guide.
Boundless can help you include your children on your green card application for just $450 per child. Check your family's eligibility here.
U.S. Embassy Information
All immigrant visa applications in Canada are processed at the U.S. Consulate General in Montreal:
U.S. Consulate General Montreal
1134 Sainte-Catherine Street West
Montréal, Québec H3B 1H4
Phone: 514-398-9695
For questions regarding immigrant visas, applicants in Canada can contact the U.S. Consulate General in Montreal directly via email: montreal-iv-dv@state.gov or via phone (514-398-9695) Monday through Friday from 7:30 AM to 5:00 PM.
Special Considerations
immigrant visa approval steps
Once a Canadian applicant's immigrant visa is approved, it will be placed in their passport and mailed to them together with a sealed "IV packet envelope". There is no pick-up at the U.S. Consulate General in Montreal and no same day service. All passport delivery is conducted through the DHL/Loomis courier service. Applicants are required to consult the U.S. Visa Service website and follow instructions for an "IV Applicant Needing to Register for Courier".
immigration options
It is important to note that K-3 visas (Nonimmigrant Visa for a Spouse) are no longer being processed in Canada. Therefore, for couples where one partner is of Canadian nationality, the only two U.S. immigration options generally available are the K-1 Fiancé(e) visa (for unmarried couples) and the CR-1/IR-1 Spousal visa (for couples who are already married).
TN Visas
If you're interested in working in the U.S., but not sure of your work visa options, the TN visa may be a good option for you. TN (Trade NAFTA) status is a nonimmigrant employment visa which allows Canadian citizens who work in specific professional occupations to work in the U.S..
TN visas allow qualified Canadian citizens to live and work in the United States, as long as their U.S. job offer falls under a list of NAFTA professions. TN status is valid for up to three years, with possibilities for renewal. For more information on how to qualify and apply for a TN visa, check out Boundless' TN guide.
Travel to the U.S.
Canadian citizens are generally able to enter the U.S. for short-term tourism or business purposes without requiring a specific visa. There may be specific circumstances where Canadian citizens do require nonimmigrant visas for temporary travel, especially if you have a pending immigrant visa application. More information on U.S. travel requirements for Canadians can be found on the U.S. State Department website.
Financial Considerations
Navigating a different financial system as a new immigrant can require some research and preparation. Boundless put together some helpful finance tips and resources for new immigrants in the U.S. in our financial guide.
Our financial guide provides information on establishing your financial footprint in the U.S., such as how to conduct banking services in the U.S. and how to build credit and obtain credit cards. You can also find helpful tips for filing taxes and obtaining U.S. health insurance coverage as a new immigrant.
Testimonials
"A Boundless agent named Hazel answered me right away and even though I had multiple requests and concerns, Hazel helped me out immediately and was very friendly and polite. I was a bit of a pain because of how many things that I was asking to be helped with, but no complaints on Hazel's end."
—Sydney, Canada
"I cannot imagine doing this process without the help of Boundless. I was asked multiple questions to make sure they were receiving all the information from me and knew exactly how to help me best. Very quick and personable help! It doesn't feel like I am just talking to a robot."
—Kinga, Canada
Additional Resources
Boundless Canada Facebook Page
Canada Immigrant Visa Support Website
Family-based Immigration – Embassy Information
Fiancé Visa – Embassy Information
Civil Documents – Reciprocity Schedule
---

Boundless — for people who want the expertise
of an immigration lawyer, not the price tag.
Here's why Canadian families are choosing Boundless: