Boundless has helped many families from China over the last year. We've helped over 70,000 families in the last decade.

Here's how to apply for specific visas, contact the U.S. embassy in China, and more:
K-1 Fiancé Visa
General process
The general K-1 visa process looks the same for Chinese citizens as it does for applicants from other countries. More information on K-1 wait times, costs, and requirements can be found in Boundless' K-1 guide. Here's a more detailed breakdown of K-1 costs and processing times for immigrants from China:
Timeline for Chinese applicants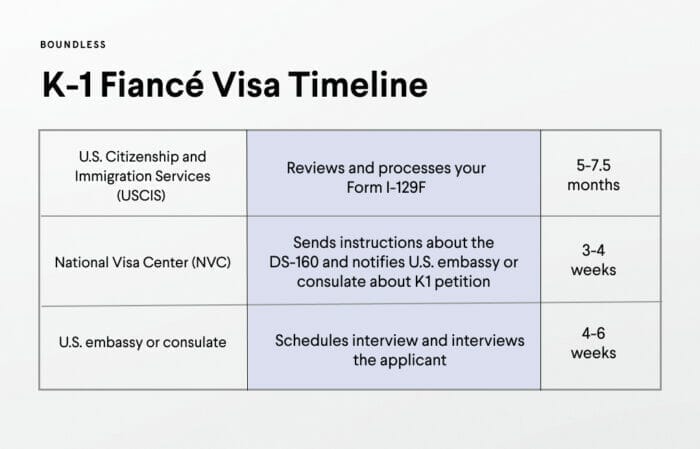 Cost for Chinese applicants
Marriage-Based Green Cards
General Process
If you and your partner are already married, or considering marriage soon, you may be thinking about applying for a marriage-based green card. Similar to the K-1 visa, the marriage-based green card process is standard for Chinese citizens. Wait times, costs, and requirements differ depending on where the Chinese spouse lives and whether the sponsoring spouse is a U.S. citizen or permanent resident. More information can be found in Boundless' marriage-based green card guide. Here's a more detailed breakdown of the costs and processing times for your specific situation:
Timeline for Chinese applicants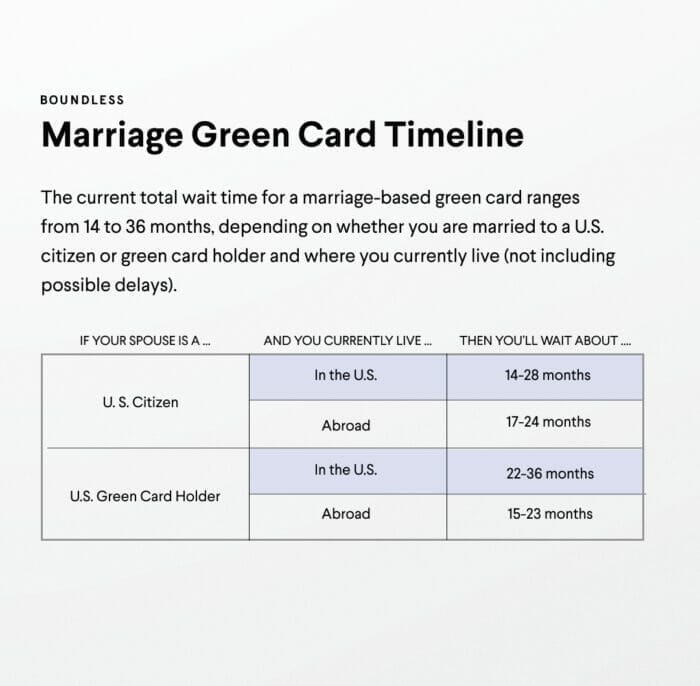 Cost for chinese applicants
Which Visa is Right for Me?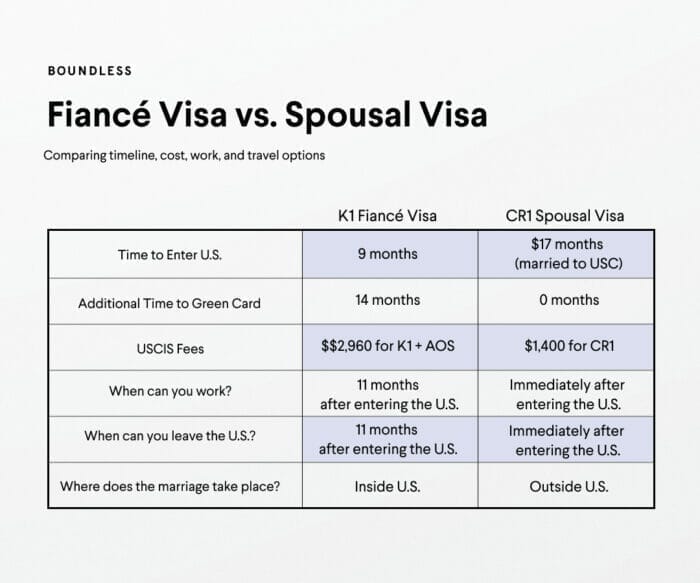 Immigrating with Children
K-2 Visas
Looking to immigrate from China with your children? If you're going the K-1 visa route, the K-2 visa may be a good option for your family. The K-2 visa can be used by the children of a K-1 fiancé visa holder to enter the United States and immigrate with their parent at the same time.
Boundless can help you include any unmarried children under the age of 21 on your K-1 fiancé visa application for no extra charge. Learn more about what we do to help.
IR-2 Child Visas
If you're a U.S. citizen and your child is living in China, it may be possible to sponsor them for a green card through the IR-2 child visa process. More information on the process and requirements can be found in Boundless' IR-2 guide.
Boundless can help you include your children on your green card application for just $450 per child. Check your family's eligibility here.
U.S. Embassy Information
All immigrant visa applications in China are processed at the U.S. Consulate General in Guangzhou:
U.S. Consulate General Guangzhou
43 Hua Jiu Road, Zhujiang New Town
Tianhe District
Guangzhou, China 510623
Phone: 020-3814-5000
For questions regarding immigrant visas, applicants in China can contact Visa Application Services. Visa Application Services call center agents are able to assist applicants via email, phone or online chat. More contact information can be found here.
Special Considerations
medical exam information
All applicants must undergo a medical exam by a U.S. Consulate-accredited physician as part of the immigrant visa process. If you are applying in China, you must schedule a medical exam with one of the following approved physicians:
BEIJING
Beijing International Travel Healthcare Center
20 Hepingli North Street, Dongcheng Dist., Beijing
Tel: (010) 82005029 / 82003383
GUANGZHOU
Health Care Center of Guangzhou International Travel
4F, 5/F East Tower, Poly Bld, No. 59 Huali Rd, Zhujiang New Town, Guangzhou
Tel: (020) 81219500 / 8129513
FUJIAN
Fujian Provincial Hospital (South Branch)
No. 516 Jinrong South Road, Fuzhou, Fujian
Tel: (0591) 88619601 / 88619602
SHANGHAI
Shanghai International Travel Medical Center
2F. Bld 3, No. 15 Jin Bang Road, Shanghai
Tel: (021) 62688851
supporting documents
All Chinese supporting documents must be processed through a notarial office (Gong Zheng Chu) administered by the Ministry of Justice for immigration purposes. This includes documents such as birth certificates, death certificates, marriage certificates, divorce certificates, etc. It is important to note that applicants may experience processing delays and receive a Request for Evidence (RFE) if they do not submit properly notarized documentation on their visa applications. More details on these guidelines and how to locate an approved notarial office near you can be found on the U.S. State Department site here.
f-1 visa information
Family-based immigration is not the only option for Chinese citizens to move to the United States. Many Chinese citizens opt to move to the U.S. to pursue educational opportunities on student visas. For example, the F-1 visa is a student visa that allows an individual to temporarily live in the United States for a defined period of time while studying at a school, college, seminary, or conservatory. If you'e interested in pursuing studies in the U.S., more information on F-1 eligibility and requirements can be found in Boundless' guide.
Additional Resources
Family-based Immigration – Embassy Information
Fiancé Visa – Embassy Information
Here's why Chinese families are choosing Boundless: