---
This article was provided by MyPassportPhotos, a company that helps green card applicants take their own photos online.
---
The photo is an important part of your green card application, and the U.S. government has a long list of photo requirements. Read on to learn more about what these requirements are, where to have your photo taken, and common questions about the green card photo.
What are the green card photo requirements?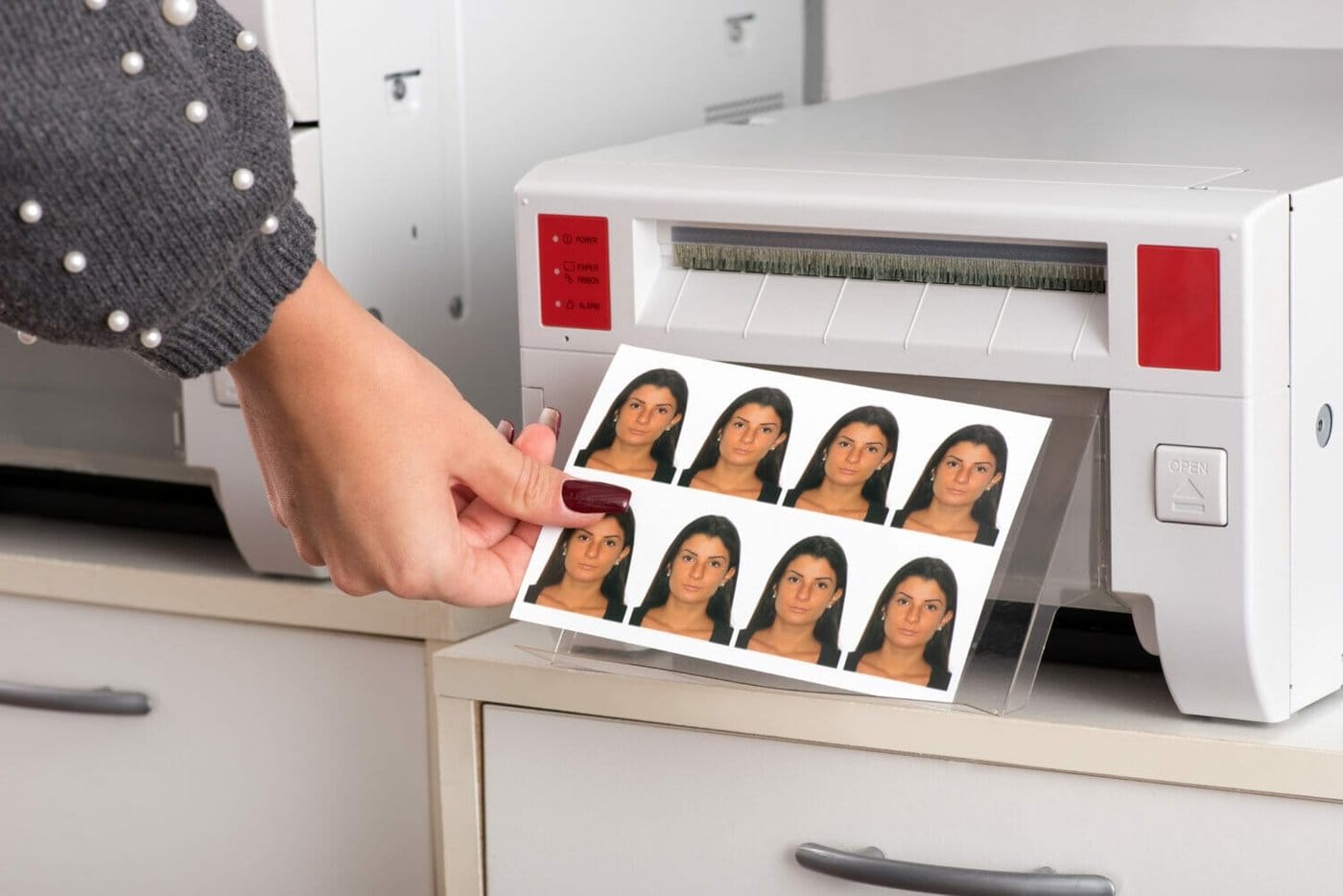 U.S. Citizenship and Immigration Services (USCIS) recommends that green card applicants use a professional visa photo service to ensure their photo meets all the requirements. If you plan to take the photo yourself, here is the list of requirements:
Photo must be in color
Make sure the photo presents the full head from the top of the hair to the bottom of the chin
Center the head with the frame
The person in the photo should have a neutral expression and be facing the camera
Photo must be 2 inches x 2 inches
The height of your head should measure 1 inch to 1 and 3/8 inches (25 mm – 35 mm)
Ensure the eye height is between 1 and 1/8 inches to 1 and 3/8 inches (28 mm – 35 mm) from the bottom of the photo
Taken within the last 6 months
Taken in front of a white or off-white background
With a neutral facial expression and both eyes open
Uniforms should not be worn in your photo, except religious clothing that is worn daily
No hat or head covering that hides the hair, unless worn daily for religious reasons
No headphones, wireless hands-free devices, or other electronic devices
No eyeglasses, except when eyeglasses must be worn for medical reasons. For instance, if the applicant recently had ocular surgery. A medical statement signed by a doctor must be included. Learn more here about the requirements if eyeglasses must be worn.
U.S. Citizenship and Immigration Services (USCIS) provides examples of acceptable and unacceptable green card photos to help guide you.
Learn more here about additional requirements for applicants using Form DS-160, also called the Online Nonimmigrant Visa Application, used to apply for temporary U.S.visas and K (fiancé(e)) visas, and Form DS-260, used by green card applicants applying from outside the United States.
Where to get a green card photo
Taking your own photo can take time, and you run the risk of not meeting all of the USCIS green card photo requirements. Generally speaking, it's a better option to have your photo taken at a post office or drugstore, or you can use a professional visa photo service.
In-person options include:
Walmart ($7.44), Target ( $12.99). Note these stores only print a photo that you've already taken
Shipping centers like UPS Store (around $11.99) and FedEx ($14.95)
Pharmacies and drugstores like Walgreens and CVS ($14.99)
AAA Membership (Plus-level members receive 1 set per member per year free of charge; premier-level members receive 4 free sets per household per year; basic members pay $10 per set and non-members pay $15 per set.)
An alternative is getting your green card photo online. A service such as MyPassportPhotos are aware of all the photo regulations to make sure your photo is compliant. The process is simple: You take a picture with your webcam or smartphone and upload it to their website. They then check and edit your photo to make sure it meets the requirements. Once ready, you can either choose to have the photo delivered to your home (if living in the United States), or to a CVS or Walgreens for in-store pickup.
Frequently Asked Questions
How many photos must I submit with my visa application?
If you are applying from within the United States, the U.S. government requires a certain number of 2-inch by 2-inch passport-style photos from both

the sponsoring spouse and the spouse seeking a green card (beneficiary)

with their physical green card application package

:

Beneficiary: eight (8) total

Sponsoring spouse: two (2) total

If the spouse seeking a green card is applying from outside the United States using Form DS-260, then they must provide two 2-inch by 2-inch photos at their green card interview
If you are applying for a nonimmigrant visa by filling out the DS-160 online form, then you must submit a digital image using the online application
What type of paper should I print my photos on?
Your photos must be printed on photo quality paper — either on matte or glossy photo paper.
Do the photos have to be in color?
Yes, your green card photos must be in color.
What size must my green card photo be?
The photo must be 2 x 2 inches (51 x 51 mm).
Can I wear sunglasses or tinted glasses in the photo?
No, sunglasses or tinted glasses are not permitted.
---
Not sure if you qualify for a marriage-based green card?
Start by checking your eligibility.