---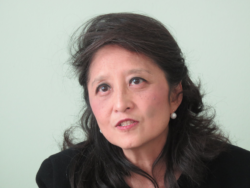 The U.K.-based Microbiology Society is one of the world's top professional associations covering the study of bacteria, viruses, protozoa and other tiny forms of life. Since 1953 the Society's biennial Marjory Stephenson Prize has been awarded for outstanding contributions to the field. Of the prize's dozens of winners, a handful have been U.S. immigrants.
Cornelius van Neil won the prize in 1955 for his work on natural selection among microbes. Born and educated in the Netherlands, he moved to the U.S. to work at Stanford's marine biology field station in Pacific Grove, Calif.
Renato Dulbecco won the prize in 1973 for his work on the way that viruses can transform cells and play a role in cancer. Dulbecco was born in Italy in 1914 and moved to the Salk Institute in San Diego, Calif. in the 1960s. He also won the 1975 Nobel Prize in Physiology or Medicine for his work on oncoviruses.
Yuan Chang shared the 2012 prize with Patrick S. Moore for their work on human tumor virology. Chang was born in Taiwan but immigrated to the U.S. as a child. Along with Moore, she discovered the viral cause of Kaposi's sarcoma, a form of cancer common in AIDS patients.
U.S. Immigrants have also won the Nobel Prize in Medicine, Political Science, Psychology, Physics and Economics.
---
Boundless — for people who want the expertise
of an immigration lawyer, not the price tag.