Boundless has helped many families from Colombia over the last year. We've helped over 70,000 families in the last decade.

Here's how to apply for specific visas, contact the U.S. embassy in Colombia, and more:
K-1 Fiancé Visa
General process
Looking to apply for a K-1 fiancé visa? The general K-1 visa process looks the same for Colombian citizens as it does for applicants from other countries. More information on K-1 wait times, costs, and requirements can be found in Boundless' K-1 guide. Here's a more detailed breakdown of K-1 costs and processing times:
Timeline for Colombian applicants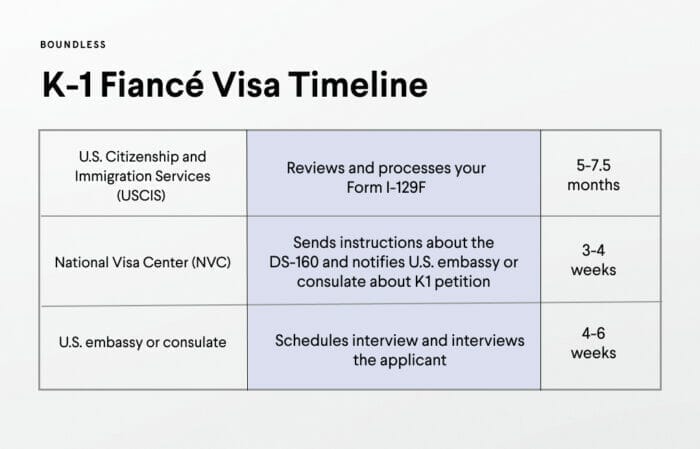 Cost for colombian applicants
Marriage-Based Green Cards
General Process
If you and your partner are already married, or considering marriage soon, you may be thinking about applying for a marriage-based green card. Similar to the K-1 visa, the marriage-based green card process is standard for Colombian citizens. Wait times, costs, and requirements differ depending on where the Colombian spouse lives and whether the sponsoring spouse is a U.S. citizen or permanent resident. More information can be found in Boundless' marriage-based green card guide. Here's a more detailed breakdown of the costs and processing times for your specific situation:
Timeline for colombian applicants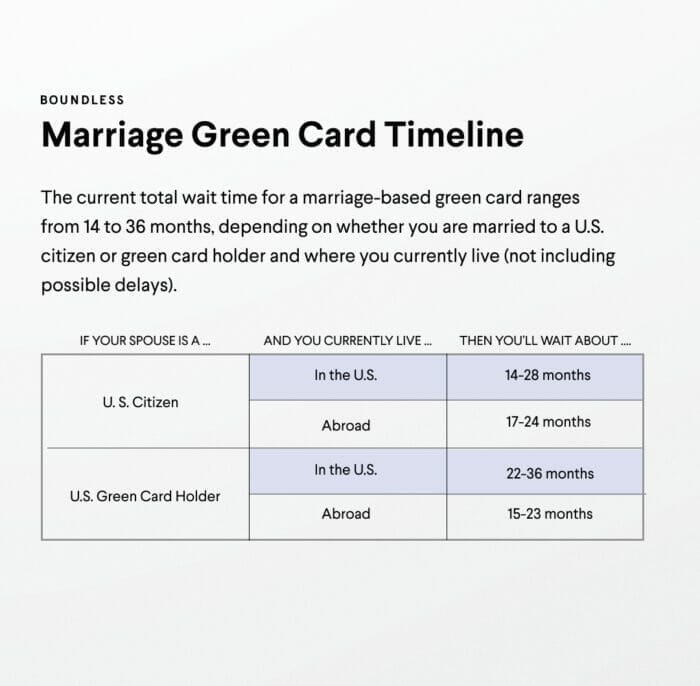 Cost for colombian applicants
Which Visa is Right for Me?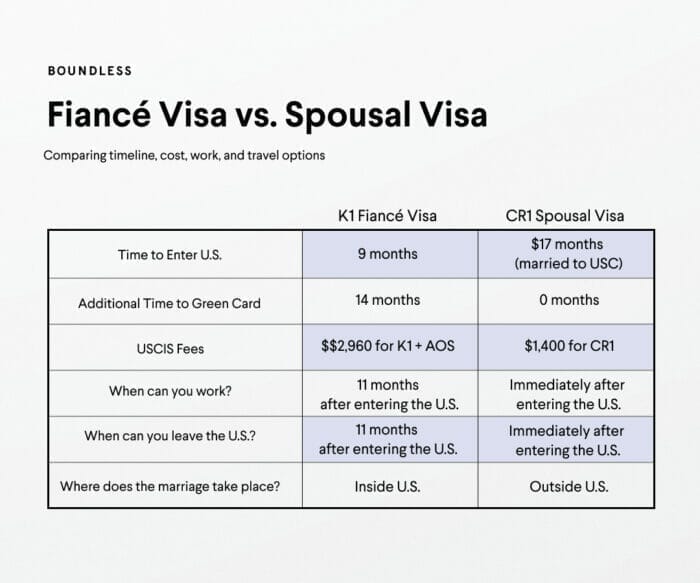 Immigrating with Children
K-2 Visas
Looking to immigrate from Colombia with your children? If you're going the K-1 visa route, the K-2 visa may be a good option for your family. The K-2 visa can be used by the children of a K-1 fiancé visa holder to enter the United States and immigrate with their parent at the same time.
Boundless can help you include any unmarried children under the age of 21 on your K-1 fiancé visa application for no extra charge. Learn more about what we do to help.
IR-2 Child Visas
If you're a U.S. citizen and your child is living in Colombia, it may be possible to sponsor them for a green card through the IR-2 child visa process. More information on the process and requirements can be found in Boundless' IR-2 guide.
Boundless can help you include your children on your green card application for just $450 per child. Check your family's eligibility here.
U.S. Embassy Information
All immigrant visa applications in Colombia are processed at the U.S. Embassy in Bogotá:
U.S. Embassy Bogotá
Carrera 45 No. 24B-27
Bogotá, D.C. Colombia
Phone: (+57) (1) 275-2000
For questions regarding immigrant visas, applicants in Colombia can contact the U.S. Embassy in Bogotá directly via email at asa_contactus+co+info+es@visaops.net.
Special Considerations
supporting documents
When applying for immigrant visas, Colombian applicants are required to submit civil documents in specific formats. Certified copies of civil documents such as birth certificates, marriage certificates, and divorce certificates can be requested by notaries or the appropriate government agency. Notaries often issue summarized birth, marriage and death certificates, however for immigration purposes, the U.S. government requires long-form, official copies. For example, Colombian applicants can generally request a "copia del folio" of their birth certificate to meet government requirements. This long-from certified copy will contain all of the information regarding the parents, the exact place where the person was born (hospital's name, home, etc.), grandparents names, date of registration, etc.
With regards to marriage certificates, it is important to note that Catholic marriages in Colombia have legal effect and once a marriage has been performed by the Church, it is registered with the civil authorities. Both records are available to applicants, although the U.S. government generally requires the civil record for immigrant visa processing. Civil marriages are presently performed by a Notary Public or a Family Judge (Notario Publico o Juez de Familia).
Occasionally, the U.S. embassy may request a copy of a religious baptism, marriage, or funeral to augment civil records. If requested by the embassy, an applicant can obtain complete copies of baptism, religious marriage, and religious funeral records from the church parish where the ceremony took place.
More general information on supporting documents for Colombian applicants can be found here.
Information for Venezuelan Applicants
In 2019, the U.S. State Department announced the temporary closure of the U.S. embassy in Caracas and the general suspension of consular services in Venezuela. As per State Department guidance, Venezuelan citizens must now visit the U.S. Embassy in Bogotá for visa assistance. If you are Venezuelan and live in either Venezuela or Colombia, then your designated application country is Colombia, and your immigrant visa case will be processed at the U.S. Embassy in Bogotá. All Venezuelan applicants who do not live in Colombia must still attend the visa interview in-person at the U.S. Embassy in Bogotá, so be sure to take this travel into consideration when applying.
Additional Resources
Boundless Latin America Facebook Page
Fiancé Visa – Embassy Information
Here's why Colombian families are choosing Boundless: