---
If you recently applied for a visa, green card, or citizenship with U.S. Citizenship and Immigration Services (USCIS), you're likely eager to check on the status of your application.
In this guide we'll cover how to check your USCIS case status online, how to navigate your myUSCIS account, and more:
---
Boundless has helped more than 100,000 people navigate the immigration process and we can help you too.
---
Checking Your USCIS Case Status Online
---
IMPORTANT: It is important to note that if you applied for an immigration benefit, such as a green card or citizenship, you will not be able to check your application status online until USCIS has received your application and sent you a Notice of Action (Form I-797).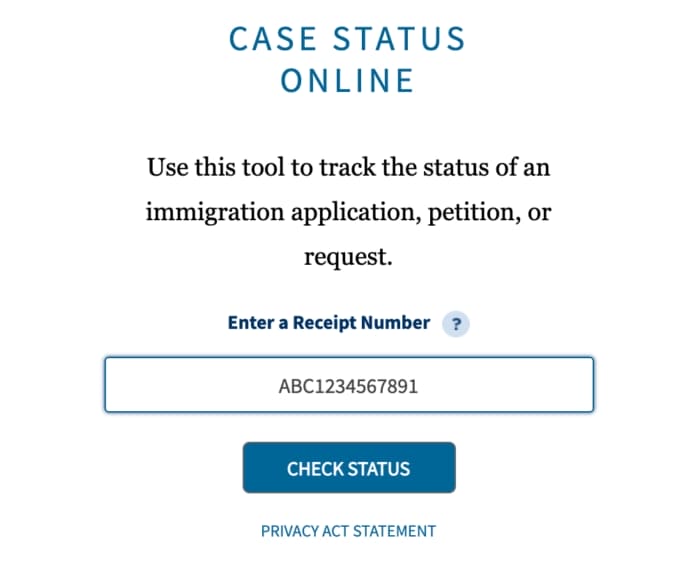 ---
Here's how to check the status of your visa online with USCIS:
Have your

USCIS receipt number(s)

on-hand

Go to the government's "Case Status Online"

tracker

Enter your receipt number(s)

Select "Check Status"
Another easy way to check your USCIS case status is by visiting myUSCIS and creating an account. Once you have created an account, you can log in to see all of your pending applications or petitions. You will be able to view a complete list of your cases and their current statuses. If your application or petition has been approved, you will be able to view the approval notice online.
---
myUSCIS is an official website of the U.S. Citizenship and Immigration Services (USCIS). It provides individuals with access to their immigration case information, applications and forms. myUSCIS allows users to track their immigration documents, receive notifications about upcoming events in their case, such as interviews or biometrics appointments, as well as learn about their rights and responsibilities during the immigration process. It also allows users to create a personal account where they can save important documents related to their case, request document translations and set up payment information for filing fees.
With myUSCIS, applicants have access to all of their immigration information in one place, making it easier to manage the entire process. Additionally, myUSCIS provides information about USCIS services, local field office locations, and customer service options. It is useful for all visa applicants to stay up-to-date on their immigration case and ensure it remains on track.
For more information about myUSCIS or to create an account, visit the myUSCIS homepage. You can also learn more about how to navigate the U.S. government's various online immigration application systems here.
---
Checking your Case Status by Visa Type
---
Green Card Applicants
Did you apply for a green card recently? Check out Boundless' guide on how to check your green card status online with USCIS.
K-1 Visa Applicants
Checking your visa case status after applying for a K-1 visa is a slightly different process depending on which form you'd like an update for and what stage in the application you're currently on. Learn more at Boundless' K-1 visa case status guide.
Citizenship Applicants
If you recently applied for U.S. citizenship, and would like an update on your naturalization form (Form N-400), we've got a guide for that too!
Immigrating to the U.S. can be complex, Boundless is here to help. Answer our 5-minute questionnaire to get started.
---
What visa types can you check your status online for?
You can check the status of your application online for many different visa types, including but not limited to green cards, family-based visas, employment-based visas and other temporary, nonimmigrant visas.
How do I find my receipt numbers?
Your USCIS receipt number is a unique 13-character identifier that is assigned to you when you file certain forms with U.S. Citizenship and Immigration Services (USCIS). This number can be found on your Form I-797, Notice of Action, which is the form USCIS sends after it receives an application or petition from you. It can also be found at the top of your receipt when you pay for a filing fee or biometrics appointment. Additionally, you may find your USCIS receipt number by logging into your USCIS account using your username and password. Once logged in, you can view the details of any form you have submitted to USCIS, including the receipt number. You can also contact the USCIS Contact Center for assistance in locating your receipt number.
Are there other ways to check my case status besides online?
You can also get a visa status check via email, mail, in-person, or over the phone. Learn more about these various methods here.
Can I contact USCIS directly?
For additional information about your case status, you can use the USCIS Contact Center. The Contact Center is available to answer any questions you may have and provide further assistance. If a decision has been made on your application or petition, they can tell you what it was and how to receive the decision notice. Boundless also put together some information on how to contact USCIS directly.
Boundless can help you avoid common pitfalls in the immigration process with unlimited support from our team of immigration experts. Learn more.