What Documents Do I Need For a Travel Visa?
The documents you'll need for your B-1/B-2 travel visa application
If you're planning a temporary stay in the United States and applying for a B-1/B-2 travel visa, you may be wondering what documents are required and what you'll need to start gathering for your application.
In this guide, we'll cover the documents needed during each stage in the B1/B2 travel visa process: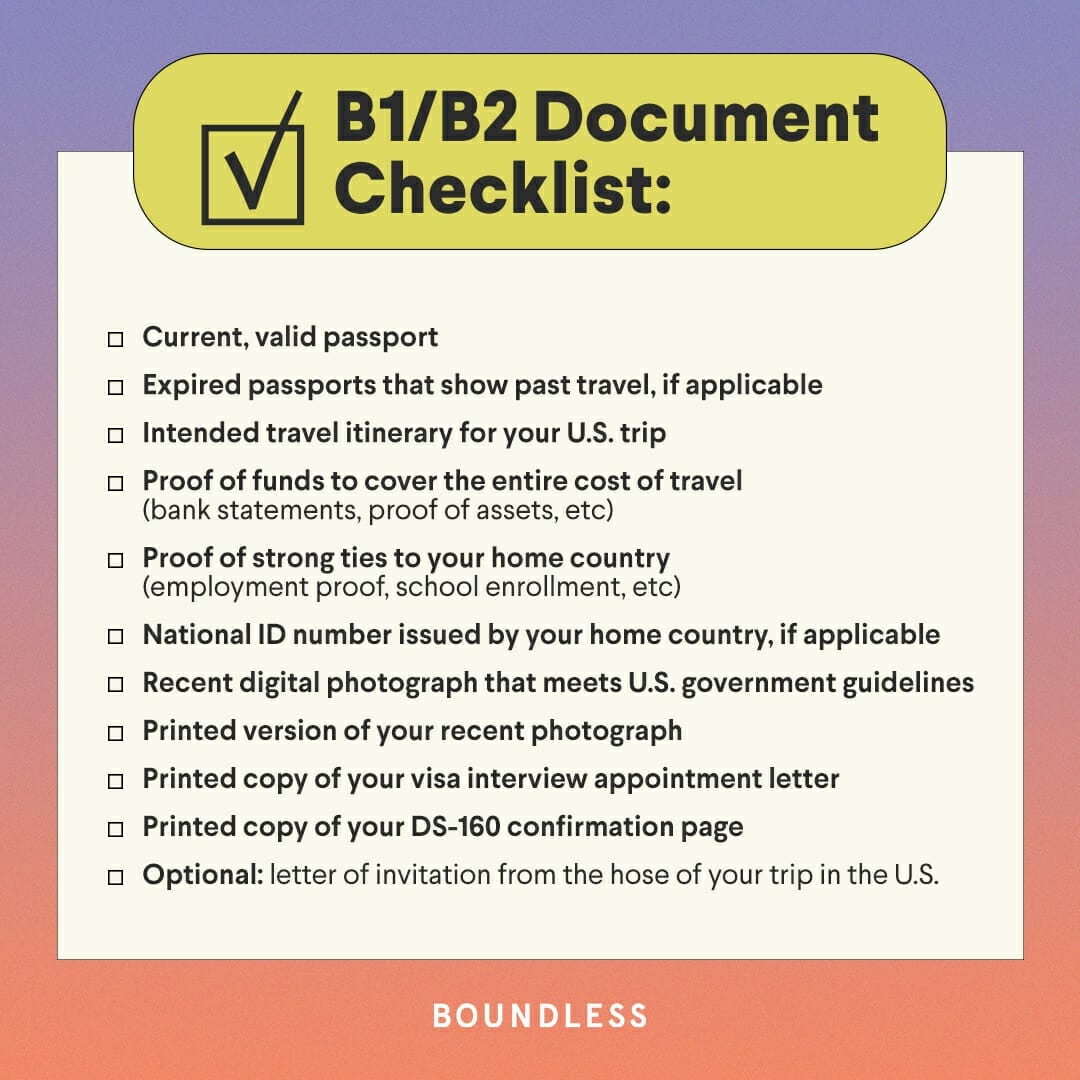 ---
Get a tailored visa plan for everything from forms to interview.
---
Online Nonimmigrant Visa Application (DS-160)
Form DS-160 Checklist
You do not need to upload any documents when completing Form DS-160 (your online application for a B-1/B-2 visa), except for a digital photo, but you will need to reference the following in order to complete the DS-160 questions:
Current, valid passport
Intended travel itinerary for your U.S. trip
Proof of funds to cover the entire cost of travel (bank statements, proof of assets, etc)
Proof of strong ties to your home country (employment verification, school enrollment, property ownership, etc)
National ID number issued by your home country (if applicable)
Recent digital photograph that meets U.S. government guidelines (be sure to save this photo on the computer or device you'll use to file your application!)
You'll also be required to answer biographical questions about you and your family, as well as more detailed questions about your employment and travel history as part of the DS-160 process. It can be helpful to have this information on hand while you complete your application.
---
Travel Visa Interview
B1/B2 Interview Checklist
One of the last steps in the travel visa process is attending your visa interview at a U.S. Embassy or consulate in the country you're applying from. After you schedule your visa appointment, you'll receive more detailed instructions from your specific embassy or consulate, but here are the documents that are generally required at all travel visa interviews:
Current passport
Expired passports that show past travel, if applicable
Printed copy of your visa interview appointment letter
Printed copy of your DS-160 confirmation page
Printed recent photograph (taken within the last six months)*
*The U.S. government has specific requirements when it comes to printed photographs for travel visas, from the size and format of the photo to the clothing you wear. You can see the full list of guidelines and requirements here. The U.S. Department of State recommends using a professional visa photo service to ensure your photos meet the requirements. The State Department website also has photo examples to view, so you can familiarize yourself with acceptable and unacceptable versions of visa photos.
Want more information on how to prepare for your travel visa interview? Check out Boundless' interview guide.
---