---
On Oct. 2, 2020, government filing fees increased for marriage green card applications filed from within the United States, as well as for citizenship applications. Total fees for green card applications filed from outside the United States will decrease very slightly. See our breakdown of the new fees here.
---
U.S. Citizenship and Immigration Services (USCIS) wants to dramatically increase fees for immigrants and visa applicants — but how does the new proposal compare with past increases?
USCIS fees: A brief history
Would-be immigrants to the United States have had to pay application fees for more than a century, but it's only in recent decades that fees have become a major part of the way the U.S. immigration system is funded.
Immigration costs used to be set by Congress, but in 1968 lawmakers decided to let agencies set their own fees. The floodgates really opened, though, in 1988, when lawmakers allowed USCIS's predecessor, the Immigration and Naturalization Service (INS), to self-fund using fee revenues without seeking regular congressional approval.
That revolutionized the funding of immigration services. In 1990, the INS still got more than 76% of its $1.1 billion budget from congressional appropriations, meaning money paid to the government by taxpayers. By 2002, though, taxpayer funding made up just 15% of USCIS's $1.5 billion budget, with virtually everything else coming from fees.
That trend has only continued: as of 2019, the USCIS budget includes just $132 million in taxpayer funds, almost all of which is used to pay for the E-Verify system. Virtually everything else that USCIS does is funded with the $4.6 billion in fees that it collects from immigrants and visa applicants.
The trouble with fees
Collecting billions of dollars in fees is a complicated business, and in 1989 and 1990 the INS ran multimillion-dollar deficits on some fee-based programs, and couldn't afford to fund inspection personnel at ports of entry. Poor cash management led to huge sums of money going missing; in a single district office, government workers were found stuffing an average of $42,000 in cash every day into envelopes in order to deposit the money by mail into INS accounts.
Credit-card payments and central lockboxes helped eliminate some of those problems, but controversies remained. One 1991 report found that more than $100 million in fees were being set by a single staff member based on little more than guesswork about INS operating costs. A decade later, a scathing report blasted INS's sloppy planning, and found the agency had no formal process in place for forecasting or tracking fee revenues.
In theory, some of those problems have been resolved. USCIS now performs biannual reviews to determine the cost of providing immigration services, so fees can be accurately matched to its operating costs. That's how the current fee hike has been justified: according to its latest review, the government claims that absent a fee increase, USCIS faces a $1.26 billion budget shortfall.
In practice, things are somewhat murkier. For years, INS faced criticism that it was diverting fee revenues into other programs such as enforcement — part of the reason that enforcement activities were eventually spun off into ICE, leaving USCIS to focus on immigration services. Ironically, the latest fee increases bring us full circle: 28.5% of the new fee increase is specifically earmarked to fund a $207 million annual payment from USCIS to ICE, as part of a broader pattern of diverting government funds into immigration enforcement.
Timeline of USCIS fee hikes
So how does the current fee hike compare to past increases? Not counting incremental increases to adjust for inflation, there have been a number of significant fee increases over the years: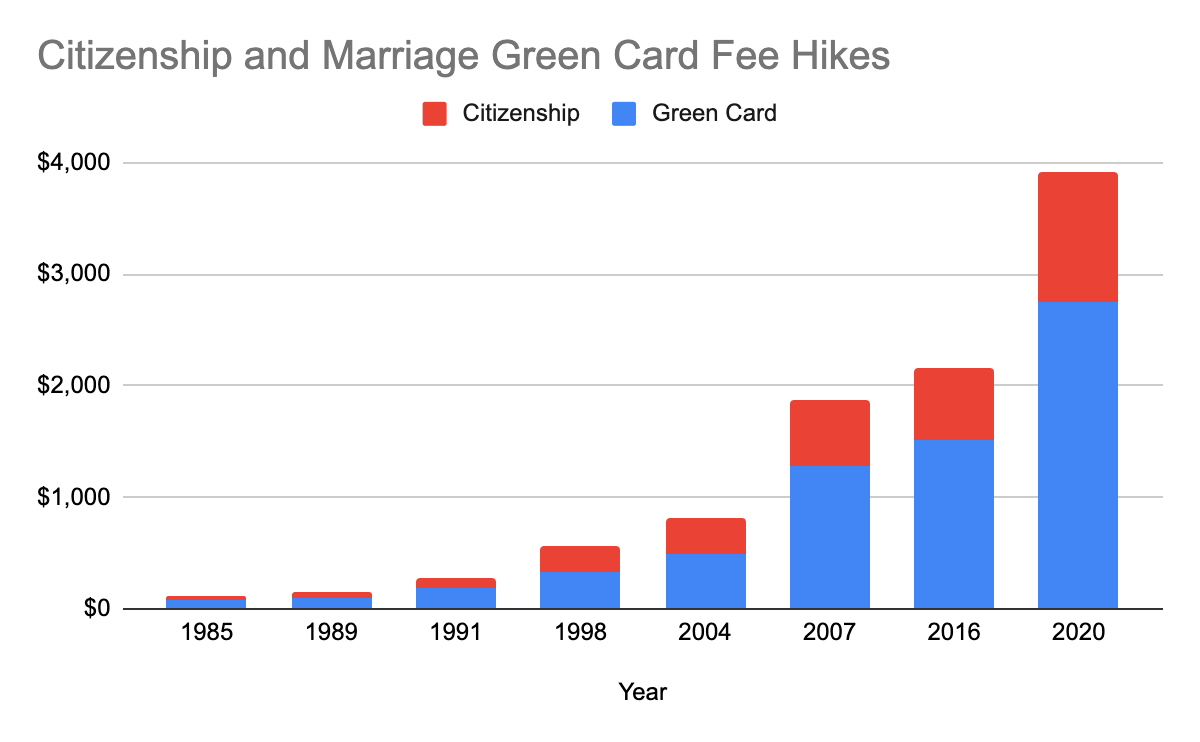 (Source: Boundless Immigration –Citizenship Fees / Family Green Card Costs)
1989
Shortly after the INS began the transition to fee-based funding, the cost of applying for a marriage green card from within the United States (combined total of Forms I-130 and I-485) rose from $85 to $100, and the cost of naturalization (Form N-400) rose from $35 to $60.
1991
Amid criticism of INS fee calculations and budgetary management, the cost of green card forms was raised to $195, and naturalization costs increased to $90.
1998
The first comprehensive, cost-based fee review saw the cost of getting a green card jump to $330, and the cost of getting citizenship increase to $225 – a 137% jump that remains the single largest hike on record in percentage terms.
2004
After the creation of the Department of Homeland Security, the cost of getting a green card increased to $500, and the cost of naturalization increased to $320.
2007
Facing huge visa backlogs, USCIS increased its fees by an average of 88%, promising that the revenues would allow improved service and the elimination of backlogs. The cost of getting a green card jumped to $1,285, and the cost of naturalization increased to $595. Officials promised to offset the fee hike for green cards by eliminating fees for related benefits such as travel and work permits.
2016
After a request for taxpayer funding got denied, USCIS increased the cost of green card applications to $1,520 and the cost of naturalization to $640.
2020
USCIS proposes hiking fees by an average of 21%, and simultaneously restoring fees for work and travel permits for green card applicants. The move brings the total cost of a green card to $2,750 – an increase of $990, or more than 56%. The cost of naturalization will similarly jump $445, or 61%, to become $1,170.
Clearly, immigration fees have climbed at an eye-popping rate. In 1985, the application fee for citizenship was $35, and the fee for a green card was $85. If those figures had risen with inflation, fees would now be $85 for citizenship, and $207 for a green card.
Instead, as of 2019, we've already seen fees for green cards and naturalization increase at almost 8times the rate of inflation. Under USCIS's new proposals, the fees for both residence and naturalization would jump still higher, to a total level almost 14 times the rate of inflation.
That raises questions about whether the new funding proposals are really anchored in USCIS's budgetary needs. For decades, U.S. immigration funding has had a checkered history marred by mismanagement, weak oversight, and faster-than-inflation fee hikes.
Even by those standards, though, the new USCIS fee proposals are extraordinary both in their reach, and in the transparency of their efforts to divert service fees into enforcement activities. Unsurprisingly, many immigration advocates view the new hikes as part of President Trump's "invisible wall" — less a way of funding a federal agency than a political strategy aimed at "pricing out" low-income immigrants, and deterring people from coming to the United States.
These fee changes could go into effect any time in the coming months, unless they're successfully challenged in court. It's generally best to complete your application as soon as you're able to avoid paying higher fees.
---
Have legal immigration questions? Get them answered by independent attorneys in our network for just $49.